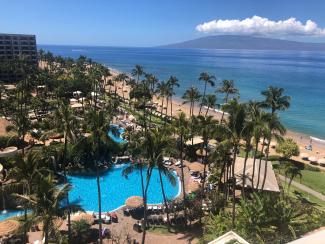 Honeymoon must be one of, if not the most important trip of a lifetime. Given our honeymoon came 8 months after the wedding, we had plenty of time to pick the destination that had all we wanted for this special vacation. My husband wanted a place he can explore a lot, have fun and enjoy the nature. I am more of a pool person who likes occasional excursions, long sand beaches and spacious accommodation. To unite what we both wanted, we picked the Hawaiian island of Maui. Whether you love high-end luxury resorts, or charming, local shops, whether you are a thrill seeker who loves to surf, or prefer to find yourself in the fragrant fields of lavender, Maui will respond to your needs and surpass them.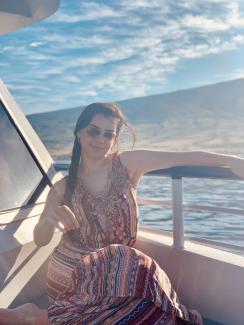 Maui is the second largest island of the Hawaiian archipelago, right after the Big island. It is surrounded by the islands of Moloka'i, Lana'i and unpopulated Kaho'olave. It has amazing experiences to offer from world-famous beaches with views of humpback whales in the winter months to farm-to-table cuisine accompanied by glorious sunset views. This island has 17 out of the 20 worldwide climate zones, so plan your stay in advance and pack accordingly. There's daily temperature variations, as well as microclimates created by elevation, winds and ocean breezes, humidity and tropical sunshine. The diverse climate though provides an area that is perfect for almost any flower of the world, so prepare to be struck by the beauty of Maui. Its intact nature will leave you breathless, but it is by no means easy to reach the most beautiful corners.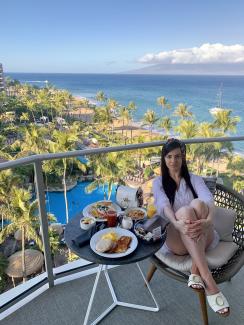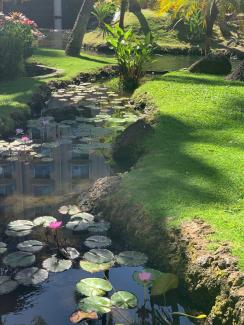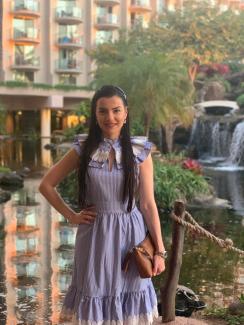 We stayed in Maui for 2 weeks, even though later we both regretted not doing some island hopping while close to all Hawaiian islands. There is, however, more than enough to do in Maui alone on a daily basis, so if you don't like to switch hotels once you arrive, you will not be bored for sure. Our choice was The Westin Resort and Spa, Ka'anapali area. We stayed at a spacious room overlooking the ocean with a cozy balcony perfect for morning coffees and breakfast. The service was great, the food was delicious and it is surrounded by shops, restaurants and other resorts. For peace seekers Ritz Carlton offers quiet location, impeccable service and huge golf courses. For those that love amazing views, Four Seasons will top all other sunset dinners with magnificent views of orange rays hitting azure waters while the violinist in the background creates unforgettable dining experience.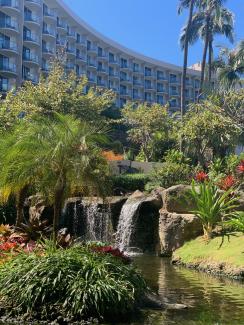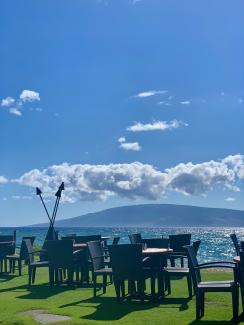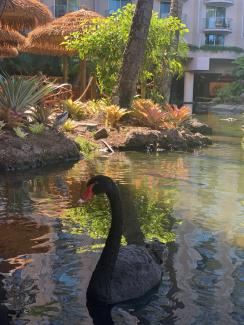 As far as the excursions go, we did it all! We visited as many beaches as possible and wanted to take part in every experience Maui has to offer. In Kihei there's a sea turtle nesting area that offers soft sand and quiet ocean, perfect for a picnic for two and making plans for your whole stay. Visiting Makena Beach State Park is a must, especially if you love soaking up the Sun on long stretches of sand. Famous Road to Hana will offer sights you can't find anywhere else in the world! Be adventurous, make frequent stops and see it all! Waianapana State Park hides Maui's Black Sand Beach and lava caves, and if you visit on a sunny day you will best remember the contrast of illuminated waters against pitch black basalt rocks. An even more dramatic look is offered by the Red Sand Beach or Kaihalulu Beach, but the walk to it is also very dramatic and dangerous for people not accustomed to walks down narrow slippery paths.
One of the most historic towns in the State of Hawaii is Lahaina, capital of Hawaiian Kingdom from 1820 to 1845. It is home to small souvenir shops, the first hotel of Maui - Pioneer Inn, and the harbor which is a starting point for whale watching excursions. We booked our tour for early morning, so we can use the rest of the day to explore Lahaina and learn about Maui. We were lucky to spot many whales! At one point even a whale mom and her baby reached the ocean surface, splashed around and had fun close to us. The dad would dive out first though to make sure his family would be safe. This amazing experience made us both fall in love with whales, and we can't wait for a similar adventure. 
We took advantage of being in the Lahaina Historic District, and visited one of nine contributing buildings - Pioneer Hotel, established in 1901. Their Bar&Grill provides casual atmosphere, refreshing juices and fruit bowls, delicious menu and is home to a cute, chatty parrot that greets all guests who approach him. We spent the rest of our afternoon strolling down the streets of Lahaina, eating organic ice-cream and buying souvenirs from local stores. 
If you love tradition, don't miss out on Black Rock dive at sunset. Ka'anapali Beach's Puu Kekaa (Black Rock) is the traditional cliff dive setting once popularized by a monumental king of Maui, Chief Kahekili during the 1700s. He was one of the first to jump off the lava flow, one of the three portals (leina) Hawaiians believed led into ancestral realm. Nowadays, there is a daily jump off this cliff to honor the history and culture. Take a seat at Sheraton Maui Resort & Spa's outdoor bar to watch their Lu'au at Black Rock, enjoy dinner and drinks, and catch the dive at sunset. There are also Hula nightly shows offered during which you can enjoy watching variety of traditional dances, and try original Hawaiian food such as poi, Kalua pig cooked in the ground or Lomi salmon.
Maui is also a great place for bird watching, learning about plants or walking on top of a volcano. This magnificent island is home to hundreds of different kinds of bird species. Besides spotting them down nature trails or national parks, it is very common to see birds living at resorts. We visited Hyatt Regency Maui Resort & Spa for an early morning tour around their property where very professional guides introduce you to their birds as well as striking personalities these birds develop. Another great thing to do is go inland and see a more old-fashioned side of Hawaiian living, where chickens walk freely, goats are a frequent sight, and ATMs are rarely found. You can make a stop at 100% Maui Coffee Company Store, or go zip lining deeper into the island. We picked Piiholo Ranch Zipline and had so much fun! The guides were fun and encouraging - they taught us a lot about the native way of living, and made sure we all felt excited during the whole tour. No matter what type of a vacation you love, Maui will answer your wants. Plan well in advance each day, so you have enough time for all of it and expect memories that will stay vivid forever!
Xoxo,
Iva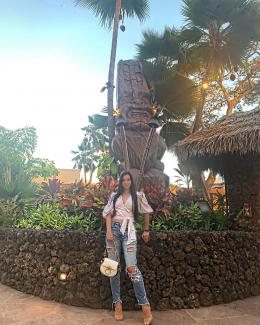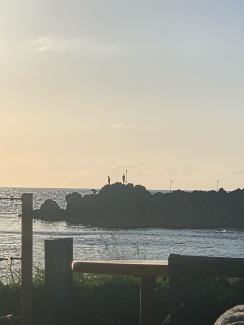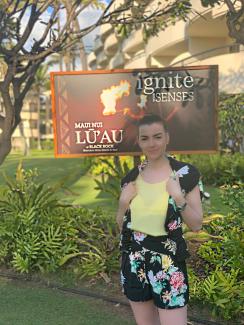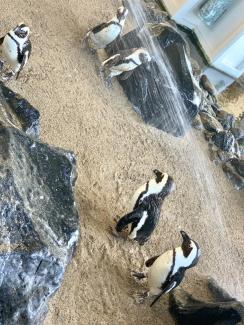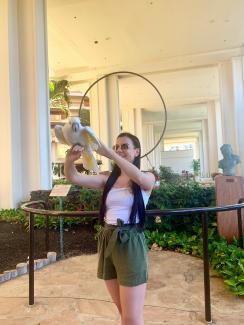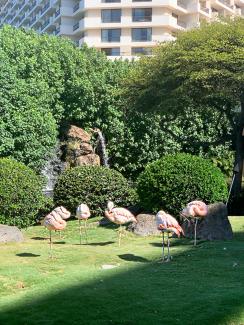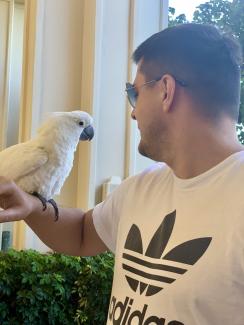 Nas medeni Maui
Medeni mesec je jedno od najvaznijih, ako ne i najvaznije putovanje u zivotu! S obzirom da je nas medeni mesec usledio 8 meseci nakon vencanja, imali smo dovoljno vremena da odaberemo destinaciju koja zadovoljava sve nase kriterijume. Moj muz je zeleo mesto koje moze neprestano da istrazuje, koje pruza dosta zabave i prelepu prirodu. Ja sam vise tip za bazen, povremene izlete, duge pescane plaze i prostrani smestaj. Da bismo oboje dobili sta zelimo, otisli smo na Havajsko ostrvo Maui. Bez obzira da li volite skupe, lukuzne hotele, ili lokalne radnjice sarmantnog duha, da li ste tip koji zudi za uzbudjenjima poput surfovanja, ili vam vise prijaju lagane setnje kroz polja lavande, Maui ce zadovoljiti sva vasa ocekivanja i nadmasiti ih. 
Maui je drugo najvece ostrvo Havajsokg arhipelaga, odmah posle Velikog Ostrva. Preko puta njega su Molokaj, Lanaj i nenaseljeno ostrvo Koholave. Pruza neverovatna iskustva - od svetski poznatih plaza sa kojih se u zimskim mesecima mogu videti grbavi kitovi, do kuhinje zasnovane na dnevnom ulovu pracene prelepim zalascima sunca. Na Mauiu ce vas docekati 17 od 20 svetskih klima, tako da planirajte odmor unapred i spakujte se u skladu sa planovima. Temperature dosta variraju na dnevnom nivou, a postoje i mikroklime koje uzrokuju nadmorska visina, vetrovi, povetarac sa okeana, vlaznost vazduha i tropsko sunce. Zahvaljujuci ovakvim razlikama, postoji sigurno neki deo ostrva na kome u svakom trenutku moze da raste skoro svaki cvet koji postoji u svetu, zato se spremite da vas ocara priroda Mauia. Ostacete, sigurna sam, bez daha! Ali, nikako nemojte misliti da je lako stici do najlepsih prizora.
Maui nam je bio dom 15 dana, mada kasnije smo oboje zazalili sto nismo obisli i ostala Havajska ostrva, kad smo im vec bili tako blizu. Medjutim, toliko toga mozete raditi na Mauiu, da i ako ne zelite da menjate hotele i obilazite dalje, nece vam sigurno biti dosadno. Nas izbor je po preporuci prijatelja bio Westin hotel i spa na Kanapali plazi. Imali smo jako prostranu sobu sa pogledom na okean i balkonom idealnim za jutarnju kafu i dorucak. Usluga je bila odlicna, hrana izuzetno ukusna, a oko hotela se nalaze prodavnice, restorani i druga odmaralista. Za one koji zele iskljucivo mir, Ritz Carlton nudi lokaciju udaljenu od guzve, golf terene i savrsenu uslugu. Ukoliko vise zelite predivan pogled, Four Seasons ce nadmasiti sve ostale restorane svojim vecerama na obali okeana uz neverovatni pogled na zrake sunca koji se stapaju sa azurnom vodom, dok violinista u pozadini kreira bajku svojim vestim muziciranjem.
Sto se dnevnih izleta tice, isli smo na sve! Posetili smo sto smo vise mogli plaza i zeleli da iskusimo sve sto Maui nudi. Kihea oblast krije plazu na kojoj se radjaju kornjace na mekom pesku pored tihog okeana i ovo mesto je idealno obici na pocetku odmora kako biste u miru planirali sledece dane. Obavezno posetite Makena Park, narocito ako obozavate da upijate sunce na dugackom pescanom prostranstvu. Cuveni Put za Hanu ponudice prizore sakrivene usput kojih nigde u svetu nema! Budite spremni na avanturu, cesto se zaustavljajte pored puta i obidjite sva skrivena mesta. Waianapana Park ce vam pokazati neverovatnu plazu od crnog peska, pecine od lave, a ako posetite kada je suncano, sigurna sam da cete zapamtiti kontrast izmedju sjajne vode i potpuno crnog kamenja koje je okruzuje. Jos dramaticniji pogled cekace vas na Crvenoj Plazi, ili Kaiahalulu Plazi, ali je i put do nje mnogo dramaticniji i opasan za ljude koji nisu naviknuti da hodaju niz uske, klizave staze.
Sto se istorije tice, nekadasnji glavni grad Kraljevstva Havaji od 1820. do 1845. godine, Lahaina, jedan je od najstarijih gradova u ovoj drzavi. Tu mozete naci radnje sa suvenirima, prvi hotel na ostrvu Maui - Pioneer Inn i luku iz koje isplovljavaju brodovi sa kojih se posmatraju kitovi. Nas brod je kretao rano ujutru, kako bismo mogli ostatak dana da posvetimo istrazivanju Lahaine i da ucimo o Mauiu. Imali smo srece da ugledamo mnostvo kitova. U jednom trenutku su cak mama kit i njena beba izasle na povrsinu, izvodile skokove u vodi i bile nam jako blizu. Najpre bi tata kit izronio, da se uveri da je okruzenje bezbedno za njegovu porodicu. Zahvaljujuci ovom neverovatnom iskustvu, oboje smo se zaljubili u ove zivotinje i jedva cekamo neku slicnu avanturu.
Boravak u Lahaini smo iskoristili da posetimo istorijske znamenitosti, najpre jednu od najstarijih zgrada, hotel Pionir, osnovan 1901. godine. Njihov bar i restoran pruzaju opustenu atmosferu, osvezavajuce sokove i vocne salate, ukusnu hranu, a takodje su i dom jednog slatkog, pricljivog papagaja koji pozdravlja goste vrlo rado cim mu pridju. Ostatak dana smo proveli setajuci gradom, probali njihov cuveni organski sladoled i kupovali suvenire. 
Ako volite tradiciju, nikako nemojte propustiti skok sa Crne Stene dok zalazi sunce. Na Kanapali plazi nalazi se Crna Stena, Puu Kekaa, sa koje je nekadasnji velicanstveni kralj, poglavica Kahekili prvi skocio verujuci da je ovaj skok portal direktno do predaka. U danasnje vreme, skok se izvodi svake veceri u cast istorije i kulture. Mozete ga gledati iz bara u Sheraton hotelu, uz veceru i pice. Ne zaboravite da pogledade cuveni Hula ples i probate originalna havajska jela kao sto su koi, Kalua prase koje se pece u zemlji ili Lomi losos. 
Maui je takodje odlicno mesto ako vas ispunjava posmatranje ptica, izucavanje biljaka ili setnja vulkanom. Ovo neverovatno ostrvo dom je stotinama razlicitih vrsta ptica. Osim sto mozete da ih uocite u nacionalnim parkovima, ili duz staza za setnju, veoma cesto zive i po hotelima. Otisli smo do Hyatt hotela u jutarnji obilazak njihovih ptica sa veoma profesionalnim vodicem koji ne samo da nam je govorio o vrstama ptica koje stanuju kod njih, vec i o razlicitim licnostima koje su ove ptice razvile. Postoji i ruralni deo Mauia u kome se zivina slobodno seta, a cesce cete naici na kozu, nego bankomat. Mozete usput svratiti do radnje koja prodaje originalnu Maui kafu, ili otici na zip-lining dublje u unutrasnjost ostrva. Mi smo otisli na Piholo ranc, koji nudi vise razlicitih zip-lining iskustva. Vodici su bili sjajni - ohrabrivali su nas pred spustanje svakom zicom, govorili nam o zivotu ljudi rodjenih na Maui ostrvu i pobrinuli se da smo svi uzbudjeni tokom celog dana.
Bez obzira kakav tip odmora volite, Maui ce bez sumnje da bude pun pogodak! Isplanirajte unapred svaki dan, kako biste imali dovoljno vremena za svako iskustvo i slobodo ocekujte uspomene koje cete pamtiti do detalja zauvek.