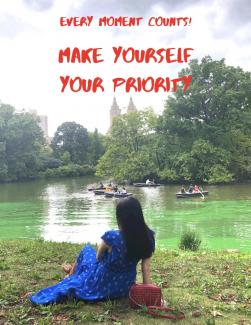 Developing and growing a business is not an easy achievement. People can get lost in the process very easily and give up. I believe this happens because as a society sometimes we tend to only look at the result. We remember and celebrate success, which is why many are not aware of the bumpy road prior to it. 
I will start this topic by saying two things:
Business starts the moment your education/adulthood/ideas begin meaning all you do before you actually start a business will contribute to your success - your lifestyle, surroundings, people you choose to spend your time with, jobs you take and leave...
There isn't a universal formula that will guarantee any success. There are no shortcuts either. If you hope for great achievements you will have to develop a great personality - the one which doesn't secretly like an easy way out of things, and is ready to keep going no matter the struggles. 
Before I continue, I'd like to say the following steps are just my personal approach to business developing. They are not learned in school, but in life. And not from others, but from my own experience, mistakes and achievements. 
There are two different approaches to handling work - you either take it slowly, focus on the present moment and as doors open you go further. Or you see a bigger picture, envision the path, and take well planned out steps towards your higher goal. I prefer the second way, as this gives me more control, and the steps I list are created accordingly. Neither of the two is better or more effective. They just differ based on different personalities people may have. 
Decide What Exactly You Want to Do

 - It may sound simple, but in reality many people waste so much time before realizing they're not on the path they want to be on. Building a business is extremely challenging at times. If you're not completely devoted and inspired to keep going, somewhere along the way you may just give up. When things get tough, and they will at times, only desire and persistence will help you stay determined. If you're still not certain what your dream career is, I suggest creating a list of all the things you are good at and/or love to do. Then try them out until you find yourself not wanting to search any more for the time being. If on the other hand you believe you have found yourself work wise, before you go out there and invest all your finances, time and effort into a business, I suggest trying it out beforehand. You may work at a similar company, volunteer, attend webinars, or meet up with people from the industry. Once you get that true sense of the business you may direct your attention towards creating a thorough plan.
Envision the Final Goal & Walk Backwards - This is my go-to technique. Once I know what I'd like to achieve, I start listing steps backwards. For example, if my final goal is to own a building, one step back would be having enough finances when I find the property; In order to make enough money for something this big, my idea would be combining multiple source income towards this one property; Let's say renting out 5 units beforehand; Then in order to even own the 5 rental units, I'd have to buy them one by one; This would mean I'd start from buying one single rental property first, and then get loans for the remaining four units; In order to get my first unit, I'd need some cash saved up for the deposit, good credit, thorough knowledge of the market and areas, and a realtor. This means that before I even think about buying that building, my first step would be getting enough knowledge which thankfully there's plenty of free lessons online as well as living in a way that would save me enough as quickly as possible - work wise, and savings wise.
Learn BEFORE You Start - I can't emphasize enough just how important knowledge is. It would be really unwise to just start a business you've never been in touch with. Even if an opportunity comes, and you have the means, jumping into an industry you know nothing about would set you for numerous mistakes, and possibly a failure. I am absolutely sure there are people who do it, and somehow succeed. But from my experience, you can never know enough! In order to gain enough knowledge and experience, at one point of my life I was even working for free. I was happy to even be allowed to sit at a company, observe and learn. Then slowly I offered my help, and eventually got hired. The knowledge I gained, that feel for the industry I was in, and connections I obtained along the way are priceless! Go a step further and learn about things that are not closely connected to your segment of work. Learn about accounting, taxes, contracts, human psychology. Become acquainted with as many different areas as possible, at some point they will come in handy. 
No Competition Rule - This is only my opinion, but it has worked for me so far - I don't even know who my competition is! Neither do I care. It can be very useful to know what kind of competition you're dealing with, so you can reorganize, step up and create new strategies. But it can also be detrimental, and this is why. Unless you want to be an inventor, all businesses are pretty much out there. Observing someone's business is only allowing you to see their result, not what came before it. You can never know how many times someone has failed, or taken a break. You don't see anyone's sleepless nights, or exhaustion. You can never know how many years someone was just learning or saving before they were actually able to reach their goals. This is why I choose to look away. I don't need distractions, and my mind filled with absurd ideas. I choose to compete with myself. I reorganize from time to time anyways. I look at my notes, my plan, my mistakes and take it from there. I step up whenever possible and learn as much as possible. I change my strategies whenever I feel there's room for improvement. Not comparing myself with others allows me to fully focus on my own potential. 
Stick to Your Plan - No matter how much you love what you do, love will only get you so far. When you own a business it is extremely important you stay disciplined. Being the owner doesn't mean being the boss who stays at home and does nothing, especially in the early years. It means you lead by example. You work hardest. You stay longer. You work on holidays. You are always available. It is hard, it is exhausting, but it is worth it! When you hit a wall, take a step back. Reorganize your routine and keep going! Stick to your plan. Make it more detailed. Have yearly, monthly and weekly goals. If these are not enough, create goals daily. Be on schedule. Be on time. Don't postpone things, unless absolutely necessary. And when you do, work harder and make up for whatever missed. Treat your business like your baby - Give it your love, attention and hard work; Always be there; Expect being tired and needed even in the middle of the night; Expect it to sometimes not listen, but keep going; When it gets messy, clean up right away; And remember - giving up is not an option! The only option is giving it your all!
Razvoj biznisa
Zapoceti i razviti posao nije ni malo lak zadatak. Ljudi se za cas izgube u procesu i odustanu. Mislim da se ovo desava jer kao drustvo gajimo kulturu u kojoj se cesto gleda samo rezultat. Slavimo i pamtimo uspehe, zarad cega mnogi ljudi nisu uopste svesni prepreka na krivudavom i teskom putu do njega. 
Zapocecu ovu temu dvema cinjenicama:
Biznis ste zapravo zapoceli jos kada ste krenuli sa obrazovanjem/sazrevanjem/idejama, sto znaci da stagod ste radili pre nego sto zapocnete sa konkretnim radom na razvoju svog biznisa uticace u velikoj meri na ishod - vas nacin zivota, okruzenje, ljudi sa kojima birate da provodite vreme, poslovi koje prihvatate ili napustate...
Ne postoji univerzalna formula koja vam garantuje uspeh. Ne postoje ni precice. Ako se nadate sjajnim dostignucima, moracete najpre da postanete sjajna licnost - ona koja potajno ne zeli da se izvuce iz obaveza i ona koja je spremna da nastavi sa radom bez obzira na prepreke.
Pre nego sto nastavim, zelela bih da takodje istaknem da su koraci koje cu ispod izlistati samo MOJ licni pristup poslu. Nije nikakvo znanje nauceno u skoli sa bilo kakvom garancijom, ili od drugih ljudi, ma koliko oni uspesni bili, vec ono sto sam ja naucila u zivotu kroz svoj trud, greske i postignuca.
Postoje dva pristupa poslu. Ili radite sto je do vas i dajete svoj maksimum sadasnjem trenutku, a onda kako vam se vrata dalje otvaraju, vi tako nadogradjujete sebe, dobijate sve vise ideja i nastavljate da 'rastete'. Ili sagledate siru sliku, pokusate da predvidite put do krajnjeg cilja i onda dobro promisljenim koracima koracate ka njemu. Meni je ovaj drugi nacin bliskiji, jer bolje radim kada osecam da imam kontorlu, pa sam u skladu sa tim i napisala korake do uspeha. Nijedan nije bolji od drugog, nijedan pouzdaniji. Samo vas pristup treba da prija vasem karakteru.
Odlucite cime tacno zelite da se bavite 

- Ovo vam mozda zvuci jednostavno, ali zapravo veliki broj ljudi izgubi suvise vremena na putu kojim uopste ne zele da idu. Razvijanje sopstvenog biznisa moze da bude izuzetno naporno s vremena na vreme i ljudi koji nisu potpuno posveceni i inspirisani da nastave u takvim trenucima jednostavno odustanu. Kada negde 'zapne', a hoce sigurno u nekom trenutku, samo cista zelja i upornost mogu da vam pomognu da istrajete. Ukoliko niste jos uvek sigurni cime biste zeleli da se bavite, predlazem da napravite spisak svega u cemu ste dobri i svega sto vam zvuci primamljivo. Onda prosto probajte delatnosti sa spiska sve dok vam neka ne zadrzi paznju i obuzme misli u pravcu daljeg razvoja. Sa druge strane, ako ste od onih koji tacno znaju koji biznis treba da zapocnu, predlozicu vam da pre nego sto ulozite sve svoje vreme, finansije i trud u taj posao, ipak nadjete nacina da ga izucite 'iznutra'. Probajte da se zaposlite u slicnoj firmi kakvu biste zeleli i sami da izgradite, volontirajte u nekoj takvoj organizaciji, pohadjajte vebinare, ili prosto pocnite da provodite vise vremena sa ljudima iz te branse. Kada zaista osetite sta sve sa sobom donosi neki posao, lakse cete odluciti da je bas to za vas i moci cete svu paznju da usmerite ka pravljenju detaljnog plana za dalje.

Zamislite krajnji cilj i hodajte unazad do sadasnjeg trenutka 

- Ovo je jedini nacin na koji postupam kada zelim nesto da ostvarim. Zamislim sta zelim i onda pisem korake unazad. Recimo ako zelim da jednog dana kupim veliku zgradu, to bi znacilo da kada dodje trenutak da nadjem tacno kakvu zelim, ja treba da budem finansijski sposobna da je kupim. Za mene nacin bi bio da imam prihod sa nekoliko strana, na primer 5 stanova za izdavanje od kojih bih mogla da isfinansiram celu zgradu, ili kredit za istu. Kako bih kupila te stanove, morala bih da pocnem od jednog stana i na osnovu njega uzimam kredit za ostale. To znaci da za prvi stan treba da imam dovoljno novca barem za ucesce i dobru kreditnu istoriju zarad sto povoljnijih uslova. Takodje bi trebalo da imam dovoljno znanja o marketu, rizicima i kreditima, kao i da poznajem nekog agenta za nekretnine. Sve ovo jasno ukazuje da pre nego sto i pomislim da kupim zgradu, ja treba da se potkujem znanjem (cega srecom ima besplatno svuda oko nas), kao i da zivim nacinom zivota koji ce mi obezbediti sto vecu ustedu za sto krace vreme (vise rada, a manje troskova).

Ucite PRE nego sto zapocnete biznis 

- Ne mogu dovoljno da naglasim koliko je znanje vazno pre nego sto samo uplovite u nesto. Zaista ne bi bilo mudro da sve ulozite u posao sa kojim nikada niste imali dodira. Cak i ako bi vam se pruzila prilika i ako biste imali sredstva za tako nesto, vrlo verovatno biste napravili previse gresaka, sto bi vam mozda i upropastilo posao. Sigurna sam da postoje ljudi koji su uspeli i na ovaj nacin, ali ja se nikad ne bih odlucila na ovoliki rizik sasvim bespotrebno. Iz mog iskustva, ma koliko da znate o nekom poslu, znanja nikad dosta! Greske se desavaju na svakom koraku, cak i kad ste puni iskustva. Ja sam zarad zelje za znanjem radila u jednom trenutku i bez plate. Bukvalno sam samo dobila od poslodavca dozvolu da sedim i slusam. Vremenom sam ponudila da pomazem u poslu takodje besplatno i na kraju sam u istoj firmi i dobila posao. Ali je meni dovoljna motivacija bilo i ucenje bez plate, jer sam zelela iskustvo, a kontakti koje sam tada stekla nemaju cenu. Takodje, prosirite znanje i van oblasti kojom se bavite. Ucite o racunovodstvu, pravnim formama, porezu, radu sa ljudima. Budite sto vise upuceni u razne segmente poslovanja, trebace vam. 

Pravilo 'bez konkurencije'

- Ovo je samo moje misljenje, ali meni je do sad sluzilo. Niti znam ko mi je konkurencija, niti me zanima! Moze da bude vrlo korisno kada znate ko vam je konkurencija, kako biste strateski drugacije pristupili poslu, podigli igru na visi nivo i potrudili se jos bolje. Ali, moze da bude i potpuno porazavajuce. A evo i zasto. Osim ako ne zelite da izmislite nesto sto ne postoji, svi poslovi su manje-vise vec zastupljeni. Ali, kada vi gledate neciji biznis, vi samo vidite njegov rezultat. Nikako ne mozete da steknete uvid u godine ucenja i uzaludnog truda, u necije neprospavane noci, odricanja ili odustajanja. Ko zna koliko puta je neciji posao propao, pre nego sto je stekao dovoljno iskustva da mu jedan uspe. I zato nije zdravo porediti se sa drugima. Zato ja biram da okrenem glavu u drugu stranu. Ne trebaju mi ometaci, niti da nesvesno sebi punim glavu apsurdnim idejama. Biram da se takmicim sa sobom. Svakako s vremena na vreme izvrsim reorganizaciju na poslovnom polju. Izucim svoje beleske i greske, podsetim se plana i onda nastavim dalje. Svakako se trudim da uvek pruzim vise i ucim do besvesti! Kad god osetim da ima mesta napretku, trudim se da ga sprovedem u delo. To sto se ne poredim ni sa kim, zapravo mi omogucava da potpuno iskoristim svoj potencijal i izvucem maksimum iz sebe.

Drzite se svog plana 

- Koliko god da volite posao koji gradite, ljubav nece bas predaleko da vas odvede. Mnogo je vaznije da ostanete disciplinovani. To sto ste vlasnik, nikako ne bi trebalo da znaci da ste samo sef koji sedi kod kuce i ceka plodove. Narocito u prvim godinama poslovanja. Naprotiv! Treba da vodite primerom. Da radite najvise, ostajete duze, radite i praznicima, uvek budete dostupni. Jeste naporno, ali vredece. Kada udarite u zid, prosto se malo izmaknite, reorganizujte pristup i nastavite dalje. Drzite se svog plana. Neka vam bude obogacen detaljima. Imajte godisnje, mesecne i nedeljne ciljeve. Ako vam oni nisu dovoljna motivacija, pravite dnevni raspored obaveza. Drzite se tog rasporeda i budite tacni. Ne odlazite obaveze, osim u krajnjoj nuzdi. Ukoliko ih i odlozite, vec sledeceg dana radite duplo napornije, kako biste nadomestili sve. Ponasajte se prema svom poslu kao sto biste prema bebi - volite to sto radite, posvetite mu svu svoju paznju i ulazite konstantni napor; Budite uvek dostupni; Ocekujte neprospavane noci i puno odricanja; Kada se napravi nered, odmah pocistite; Birajte da mirno i uporno gradite svoj biznis, uprkos nemanju instant rezultata; I upamtite - nema odustajanja!