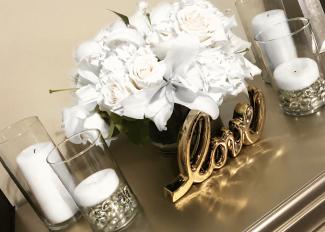 Covid19 has been the main topic for months now on a global level. The world is facing a shared enemy right now, and many of us can't do much but pray and stay inside. By isolating ourselves we're decreasing chances of getting and spreading this dangerous virus thus saving lives of those close to us. Staying inside can be challenging, especially when used to the hustle of big cities and fast paced life. But switching gears can be a great change! Nowadays people tend to spend their days off traveling, or visiting their families. In the meantime, we've forgotten how to fulfill idleness with constructive habits. There are things to do while in self-quarantine that can help you come out of this situation a better version - refreshed, empowered, rested, more educated and better prepared for future challenges. 
1) Clean/Organize/Disinfect
Whether you're doing your detailed spring cleaning, or just trying to stay healthy, hygiene is of utmost importance these days. Make sure to clean all common areas if you share your home, as well as all surfaces you touch often such as door knobs, light switches, phones, keys and remote controls. Don't forget to wash your hands frequently and use hand-sanitizers when needed. If you have extra time, organize your pantry and closets. This way you will know exactly where everything is, and will avoid touching the items you don't need. Plus, it's fun to get creative, come up with new solutions for your home , and spend time planning your outfits for once this all has passed. We all have items we simply forgot about, so let's utilize them more often. If you find yourself finding items you don't want or need any more, donate them. Make this your time of giving! Many families might end up economically harmed, so let's remember the significance of sharing, and rebuild our communities together. 
2) Enrich your spirit
Find as many ways as possible to preserve your inner peace. Try meditating, visualizing the best outcome, and practicing gratitude. Let these become your mini daily rituals. They will help to manage stressful situations, and clear your mind and soul. You can even imagine being at your favorite peaceful place, and absorb all the positivity that place offers. Mental health deserves just as much care as our physical health, if not more.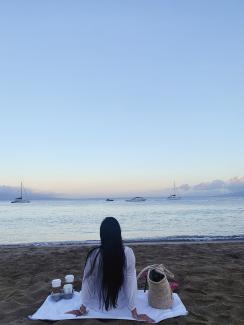 My morning meditation is always relaxing music with hot coffee. When I take a vacation, I love to wake up early and have my morning coffee at the beach. The sound of ocean and views of sunrise make me live in the moment, and these morning rituals became essential to my travels. The rest of my time away I devote to exploring and learning. However, home works just fine as well. If I feel the urge to travel but can't, I envision my future adventures, or simply imagine being where I want. No matter what the reason is I stay home, I find gratitude in small things. I remember how lucky I am to be surrounded by family, have a roof over my head, feel safe and not lack essentials. Practicing gratitude is the quickest and easiest way to set the mood for the day and face any issues from the positive perspective. 
3) Read
Books are always the best tools to take you to a different reality and enlighten your mood. Not only will the time pass quicker, but you will improve your knowledge, vocabulary and quality of life once you start to apply the newly acquired knowledge and skills. My favorite writer Paulo Coelho posted some ebooks for free on his blog recently. If a fan click here. 
There's also a ton of audio books you can listen to on YouTube, as well as useful webinars you can attend if you are in the mood for some learning. 
Personally I always opt for hard copies of books, and here's a list of the ones I recommend:
4) Have a Spa day at home
If there's ever a time you have the opportunity to enjoy warm baths and face masks in the comfort of your home without unexpected guests it is now! Use it wisely. Run a bath, enjoy your favorite hot tea with it, and then cool down with cucumber slices over your eyelids. Experiment with products, try do-it-yourself recipes, or indulge in tested and proven routines. My daily skincare routine includes Sisley mousse cleanser, brightening toner, hydrating serum and a moisturizer. If going out, Sisley All day all year is a must! It protects from harmful environmental factors and of course the Sun. On top of this, 2-3 times a week I use a buffing cream to smooth out my skin, and then follow with an overnight mask. Find my picks by clicking. 
Less expensive, but also very effective are Shiseido products. Read about the products I tried in my 'Beauty' section. They smell amazing and are a great means of aroma therapy. If you decide to stay on a budget, but want to take care of your skin, don't hesitate to use oils. Argan oil is great for skin, and castor oil does wanders for lashes, brows and hair. You may include a cup of hot tea in your spa routine which will help you stay calm and healthy.
5) Work out
What's a better way to get full of energy early on in a day, than to work out, burn some stress off, stretch and start the day freshly showered ready to seize all opportunities the day might bring?! There are great videos online, 'sweat' app I love to use, or you can create your own mini routines that boost your good mood and make you stronger. For yoga lovers, there's also relaxing music that can ease your mind as well. Remember to take it slowly if you are just beginning to exercise, and always adjust the exercises to your body and needs. Even if you work out at home, try cute gym clothes. This might boost your desire to train, plus you won't feel as much isolated once you have to get ready as if you were going to the gym.
Whatever activities you choose while in self-isolation, don't forget this can also be your self-empowering, self-educating and self-awakening period. It's on you!
Xoxo,
Iva