We all have different preferences when booking a vacation. It can be hard to make choices, especially when we only go away once or twice a year. There are some guidelines that might help you decide though.
I always decide on my budget first. Once I know the price point, based on how many days off I can take, I narrow down my options until I figure out which destination can provide what me and my family need. If traveling internationally, visas are a big deal. Make sure you check the requirements of the country you are about to visit before booking a hotel or purchasing a plane ticket. You should also find out how long the flights are, and how many flights you may need to switch in order to reach the destination you choose. Focus on whether you want a peaceful vacation that is going to recharge your batteries, or you are in the mood to explore different cultures and environments. 
All-inclusive resorts are the perfect option for family vacations during which your main goal is for everyone in the family to get closer, talk, have fun together and leave refreshed. They provide all amenities you need, so you don't waste time searching for restaurants and shops, and you can concentrate on quality talks, cocktails by the pool and fun family dinners that you'll cherish forever.
Since my brother and I live on different continents, when we take vacations together our main goal is to catch up on each other's lives and just relax unbothered with where to eat, or what to do. We also like to choose countries that don't require visas for the citizens of Serbia, so my brother doesn't have to use some of his time off getting his documents processed. For the last vacation we took together, our choice was the Dominican Republic. 
Other than pristine beaches, soft white sand, and lots of sunny days, this country is also home to many wonderful all-inclusive resorts that provide impeccable service and numerous forms of entertainment. We picked Now Larimar Resort & Spa in Punta Cana, upgraded to their Preferred Club, and loved every minute! Not only was this the perfect choice for our mini family vacation, but it would also be a great place for fun-loving couples or friends getaways.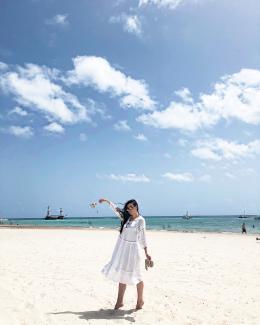 Punta Cana is a resort town in the easternmost province of the Dominican Republic, the area that faces both Atlantic Ocean and the Caribbean Sea. It has a hot and humid climate with mild winds and mainly shallow waters. It offers various water activities such as scuba diving, snorkeling, speedboats, cruises, windsurfing or swimming with dolphins and sharks, as well as land based adventures such as horse back riding through the countryside, or certain safari tours. Punta Cana has its own international airport making traveling to luxury resorts easier. As soon as you touch the grounds you can already feel the tropical spirit. The airport consists of open-air terminals whose roofs are covered with palm fronds. There are musicians performing island music welcoming tourists to their area.
Now Larimar Resort & Spa offers unlimited luxury, and palm-trees-decorated white sand beach. They are a part of 'The Punta Cana Promise' - a set of security standards and safety regulations that provides the visitors with the highest level of service and security. They met and exceeded our expectations with their hospitality and cleanliness. The Preferred Club section of the resort is the most luxurious and closest to the beach. It offers magnificent views of turquoise ocean we enjoyed during our morning coffees. To top already wonderful amenities, the resort will improve their accommodations starting June 2020 by building deluxe private swim up suites, and I can't wait to be back!
Besides excellent accommodations, there are many more reasons to choose this resort for your next trip. What I loved most was the 24-hour room and concierge service. You can enjoy dining in the privacy of your room/suite at any hour of the day or visit the Carnival Buffet for late night cravings. There are international specialty dining options available, with no reservations required. We had lobster with wine at Mercure, a French restaurant; Enjoyed Mexican cuisine at Tamarindo; And had a fun Hibachi night with delicious food and fun hosts at Spice. There are beachside snack grills, more a la carte restaurants which all offer gluten-free options, as well as 13 bars and lounges, some of which are for Preferred guests only.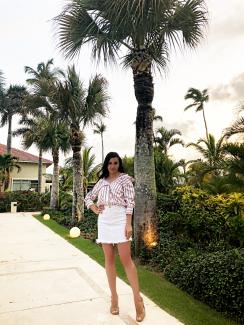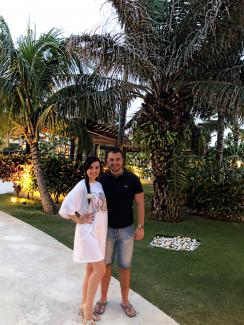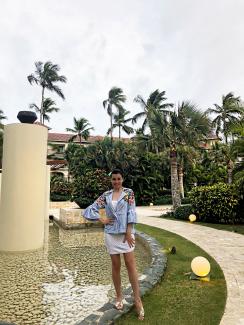 As far as the activities are concerned, you are in good hands. The resort offers entertainment for every age. If you travel with a child, there is the Explorer's Club, a fully supervised program for the kids. You can drop them off, and then unwind by the pool. There is also a Core Zone Teens Club, for the older ones. The adults can try their luck at the casino, play some golf nearby or indulge in the beauty of the hotel's indoor/outdoor Secrets spa. The massages are amazing! You can try their revitalizing facial treatments, detoxify your body and get pampered at the beauty salon. Drink fresh chlorophyll water by the hot tubs, soak up the Sun, or relax on comfy beds while waiting for the treatment of your choice. If you like staying active, there's a fitness center open daily. This resort also provides nightly events at the center stage. We watched so many dances, fire shows and celebrations. Their team is kind, fun and always in the mood to party. They will teach you salsa on the beach, perform mini mid-day shows to keep up the good spirits, and go above and beyond for holidays.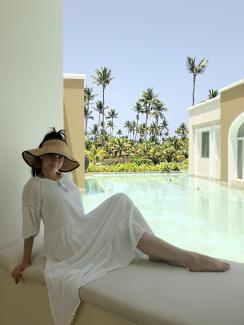 Experience all of this while watching them promote a sustainable tourism environment by implementing a set of practices such as recycling, regular beach cleaning, using electronic keys, and honoring Annual Earth Day.The best part is the convenience of all amenities being close, as the resort is amazingly constructed and organized. I can't wait to be back, this time with more family members for even more unforgettable moments!
Zasto All-Inclusive bas na Dominikani
Svako od nas ima razlicite zelje kada su u pitanju odmori. Moze da bude izazovno odabrati jednu destinaciju uz toliko prelepih mesta a nedovoljno vremena, narocito ako putujemo samo jednom godinje. Postoje, ipak, neke smernice kojih mozemo da se drzimo. 
Meni je uvek prva stavka budzet. Onda kada znam sa koliko novca raspolazem i koliko dana odmora mogu sebi da dam, lakse mi je da suzim izbor do destinacije koja odgovara mojoj porodici i meni. Kod putovanja van zemlje, veoma su vazne vize. Obavezno proverite koja je procedura viziranja za zemlju koju zelite da posetite pre nego sto uplatite smetaj i kupite avio karte. Takodje je vazno da unapred znamo koliko bi trajao let i koliko aviona bismo promenili dok stignemo na zeljeno mesto. Neka vam fokus bude na tome da li zelite miran odmor koji ce vam napuniti baterije za narednu godinu, ili ste vise raspolozeni da istrazujete kulture i razlicita okruzenja.
All-inclusive hotelski smestaji, odnosno oni kod kojih je sve osim prevoza ukljuceno u cenu, su idealna opcija za porodicne odmore sa rodbinom, kada je najvaznije zbliziti se, ispricati se, dobro se provesti i osecati se osvezenim kada se odmor priblizi kraju. Ovakvi hotelski kompleksi sadrze sve sto vam treba, tako da ne gubite vreme trazeci restorane i prodavnice, vec mozete bezbrizno da se prepustite razgovorima uz veceru i pice i tako napravite predivne uspomene sa porodicom.
Posto moj brat i ja zivimo na razlicitim kontinentima, kada idemo na odmor zajedno glavni cilj nam je da ne gubimo vreme planirajuci svaki dan, vec da mozemo jedno drugom da pricamo o bitnim zivotnim dogadjajima, planovima i propustenim situacijama. Uvek se trudimo da odaberemo zemlju koja za gradjane Srbije ne trazi vizu, da on ne bi trosio slobodne dane na prikupljanje dokumenata i viziranje. Zato smo za poslednje zajednicko letovanje odabrali Dominikansku Republiku.
Osim besprekornih plaza sa belicastim, mekim peskom i bezbroj suncanih dana, ova zemlja nudi i divne hotelske komplekse koji pruzaju izvanrednu uslugu i razne vidove zabave. Odabrali smo Now Larimar Hotel i Spa u Punta Kani, doplatili za opciju "Privatnog kluba" u istom hotelskom kompleksu i uzivali u svakom trenutku! Ne samo da je ovo idealna opcija za odmor sa porodicom, nego bi bilo divno otici i sa prijateljima, ili partnerom.
Punta Kana je grad na istoku Dominikane, smesten u oblasti koja izlazi i na Atlantski okean i na Karipsko more. Vlada tropska klima pracena blagim vetrovima, a voda je uglavnom plitka. Mozete da ronite, posmatrate morski svet, bavite se sportovima na vodi, plivate sa delfinima i ajkulama, a ukoliko ste vise za kopno, postoji mogucnost da odete na jahanje kroz unutrasnjost Dominikane, ili na safari. Punta Kana ima sopstveni medjunarodni aerodrom, pa je jako lako stici. Cim sletite oseca se duh tropskog ostrva. Terminali na aerodromu su delom na otvorenom, krovovi su sacinjeni od ogromnih listova palme, a muzicari sa osmehom pozdravljaju posetioce uz ostrvski ritam i ples.
Now Larimar Hotel & Spa nudi 'luksuz bez limita' i najfiniji pesak ukrasen palmama. Deo su "Punta Kana Obecanja" koje je sacinjeno od najvisih standarda kada je u pitanju bezbednost posetilaca i usluga koja im se pruza. Sto se nasih ocekivanja tice, nadmasili su ih svojom ljubaznoscu i cistocom. "Privatni klub" je deo kompleksa najblizi plazi. Pruza vam savrsen pogled na tirkizno more u kome smo svakog jutra uz kafu uzivali. Kako bi prevazisli vec postojecu odlicnu uslugu, od juna 2020. posetioci ce moci da uzivaju u novim deluks apartmanima sa bazenom i zaista jedva cekam da ih ponovo posetim!  
Osim sjajnog smestaja, postoji jos mnogo razloga da odaberete bas ovaj objekat za prvo sledece putovanje. Najvise mi se dopalo sto je 'room service' dostupan 24h svakog dana, kao i hotelski vodici. Mozete da porucite hranu za svoju sobu/apartman u bilo koje doba dana, a ako zelite da izadjete i nesto prezalogajite u toku noci, ta usluga vam je omogucena u Carnival restoranu na bazi svedskog stola. Postoje i restorani sa medjunarodnim specijalitetima, a rezervacija nije neophodna. Jastog i belo vino su bili nas odabir u francuskom restoranu Mercure, uzivali smo u meksickoj hrani u Tamarindu, a zabavno vece uz japanske specijalitete i sou pruzio nam je Spice. Postoje i barovi pored plaze koji nude rostilj ili sendvice, a ako zelite da porucujete sa bogatih menija, to ce vam omoguciti mnostvo drugih restorana koji nude i opcije bez glutena. Povrh svega ovoga na usluzi vam je jos 13 barova i kafea, od kojih u neke mogu da udju samo gosti koji su clanovi "Privatnog kluba". 
Sto se tice ostalog sadrzaja, tu ste takodje u dobrim rukama. Now Larimar nudi zabavu za svaki uzrast. Ako putujete sa decom, na raspolaganju vam je Klub za mlade istrazivace, u kome su deca pod nadzorom, a vi mozete da se odmarate pokraj bazena. Postoji i Klub za tinejdzere, za stariju decu. Odrasli mogu da okusaju srecu u kazinu, igraj golf u blizini, ili da se opuste su spa centru Secrets koji je delom na otvorenom, a delom unutra. Masaze su im sjajne! Mozete probati i neki od detoks tretmana za lice i telo, ili posetiti salon lepote. Spa centar vam dobrodoslicu zeli svezom vodom obogacenom hlorofil kapima, suvim vocem i kolacima, a udobni kreveti su na otvorenom za ljubitelje suncanja da na njima uzivaju dok cekaju neki od tretmana. Za one koji preferiraju aktivni odmor, otvoren je fitnes centar.
Hotelski kompleks nudi zabavne sadrzaje svako vece. U samom centru postoji bina okruzena kaficima na kojoj nastupaju plesaci, komicari i organizuju se proslave praznika. Isti tim izvodjaca drzi casove salse na plazi preko dana, imaju nastupe pokraj bazena i uvek su dobro raspolozeni da animiraju goste. Sve ovo vam Now Larimar pruza, dok u isto vreme cuva zivotnu sredinu redovnim ciscenjem plaza, upotrebom elektronskih kljuceva, recikliranjem i obelezavanjem Dana planete.
Najbolje od svega je organizacija odmaralista, koja je tako maestralno sprovedena, da vam je sve uvek blizu. Sledeci put cu na odmor otici i sa ostalim clanovima porodice, kako bi uspomene bile jos raznovrsnije i nezaboravne svima nama!