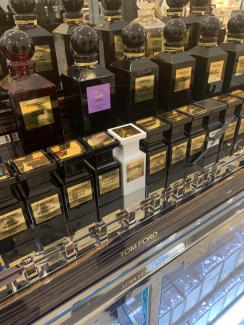 Today I had the privilege to attend a Tom Ford event in a nearby Neiman Marcus to which I was invited to talk to a fragrance specialist about how to layer these fragrances and create your own signature scent.
To those who know me, it is not a secret I am a perfume addict! I love experimenting with fragrance, playing around and creating that special scent people remember.
Perfumes are much more than just a scent. They will also be your individual mark, and people will always remember moments they spent with you when they smell something similar. I love Tom Ford fragrances, because they're different to any other! You almost can't describe them and you for sure can't compare them! Don't forget that everyone's body will pick up a different note of one and the same perfume, so you'll always be you which is the best part! :))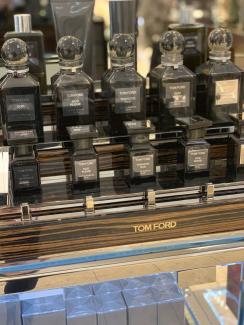 Tom Ford fragrances have such a variety when it comes to their offer. They go from blue bottles which are considered lightest, to florals, greens, musks and then orientals followed by all the heavier ones.
My personal choice is Soleil Blanc Eau de Perfum which is somewhere in the middle of the light-heavy scale. This was my starting point to layering. And since I'm not the heavy perfume type of person, Soleil Blanc was my "heavy" base, that then I layered lighter fragrances on top of. What I learned from the Tom Ford specialist is that you only need to spray your heavier base once, and then spray your lighter choice on top twice. I played with several different options, and loved every single one. But the winner was Soleil Blanc base with the addition of Vert de Fleur on top. Get creative and have fun with these fragrances. They're all very beautiful and playing around will make your day for sure! :))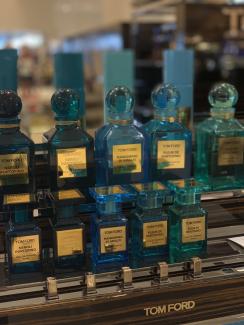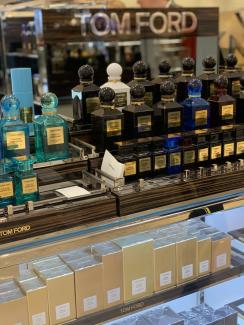 Also, feel free to explore the rest of Tom Ford beauty. I can't imagine doing my makeup without Tom Ford eye primer any more. Their highlighter and blush combo is of great quality, and will last so long. My next pick though is going to be the most beautiful shade of deep red lipstick, but you go ahead and make your top picks ???? I'd love to hear your comments. 
Xoxo,
Iva