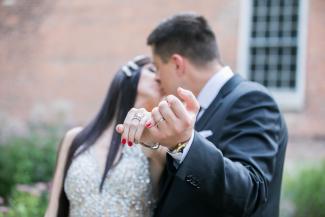 We all dream of different endings. Every love story is colored with our unique wishes and magically shaped with our hearts. With me and him it all started back in 2008 with our first kiss. Since then, we've learned that life works in its own ways, that not every distance is forever, and that what is meant to be will always come to life.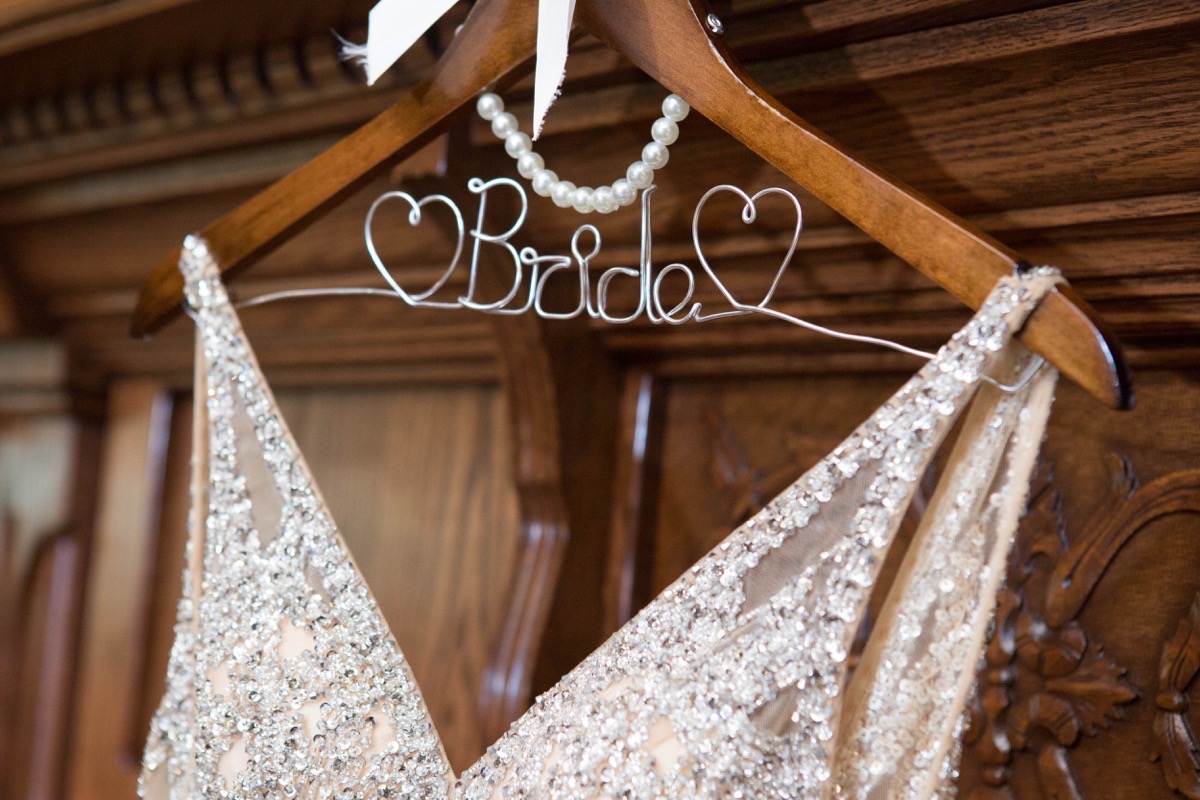 While I was planning our summer vacation in California, he was planning a proposal. As I was thinking he attended work seminars, he actually met with diamond specialists, agreed on the clarity and size, and had my ring custom made in Florida. We celebrated our engagement over an intimate dinner with seafood and champagne. This was the first time we talked about what kind of wedding we envisioned. I wanted a small gathering at lunch time with a quiet sounds of violin in the background. He agreed my vision was beautiful but added a music band. 
As I am a very decisive person, I knew exactly what I wanted right away. It was now only a matter of finding the right team of people to bring my dream into reality. Our first step was booking the venue - the Drake Hotel in Oak Brook. Only a short drive from Chicago, this luxurious and elegant escape from the everyday is home to the most magnificent space I ever set my eyes on - the Flower Room. Designed with attention to detail, bright and airy, decorated with most beautiful, colorful flowers, it opens doors to lush gardens where romance will blossom and you will feel like royalty. As part of our wedding package we received a complementary suite, and this is where I was getting ready and partied with my girls before the ceremony. My amazing makeup artist joined us and did her magic so that all of us can look glamorous.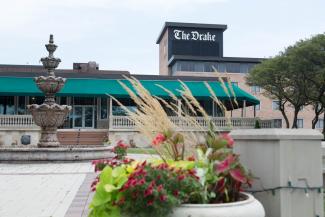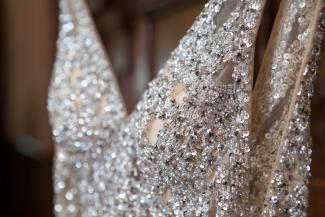 Shortly after we agreed on the reception details with the event coordinator, we booked Saint Nikola church for our ceremony, and proceeded onto decor, flowers and cake. I wanted the whole wedding to be colored with neutral tones and have gold sparkle to it. Off white and champagne shades dominated the theme. My Jovani crystal dress matched too. All white and off white flowers were picked for our centerpieces, and Phillip's Flowers of Hinsdale did a great job. They created a very gentle, yet glamorous bouquet for me as well, and decorated the church exactly how we wanted.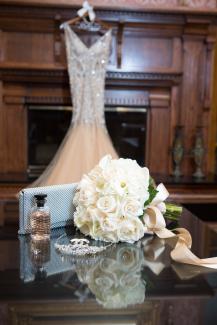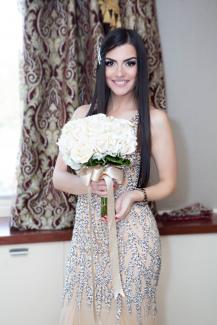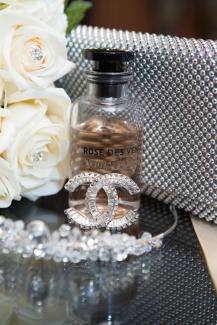 The neutral colored themed spread across the linens, chairs, napkins and cake. Our two-tiered lemon cake was made with raspberry mousse and frosted in Italian Buttercream. The bottom tier was covered in buttercream rosettes, and the top tier was less embellished so that the simple cake would contrast the gold stand beautifully. My favorite touch were our Swarovski crystal champagne glasses that we promised to save for our future child's wedding.
The ceremony was truly special as our friend took part in the choir. Our family and closest friends were present. I tossed the bouquet in front of the church, and then we joined the rest of the party for the cocktail hour at Drake. Hors D'Oeuvres consisted of variety of items, amongst which chili lime salmon satay and vegetable spring rolls were our favorites. The main menu offered well crafted and amazingly presented dishes, vegan options being included as well. All of it was printed on the gold and off white cards that matched the invitations, welcome presentation and guest seating cards.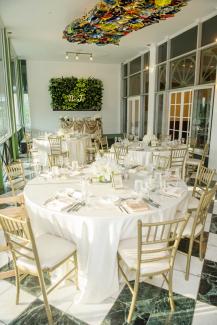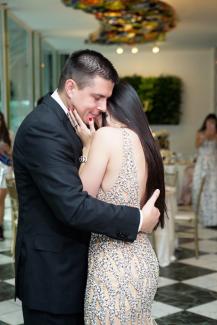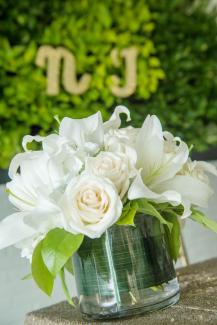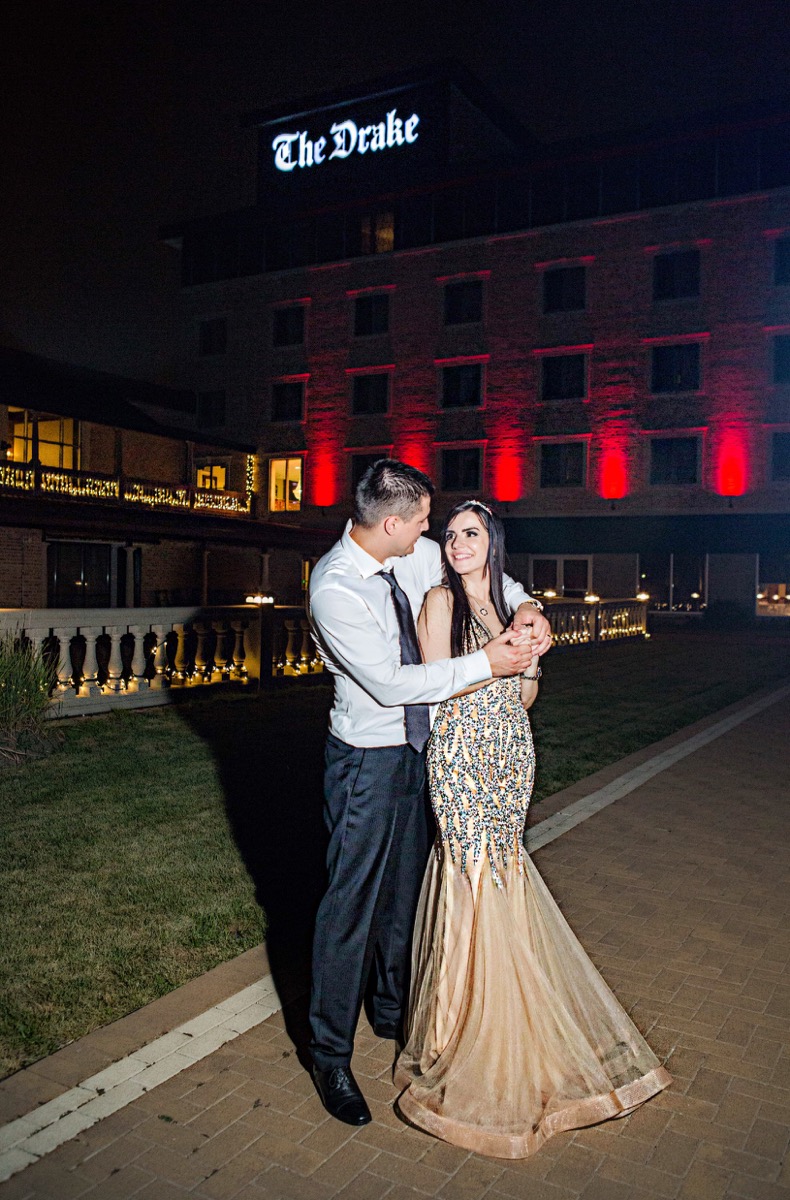 After dinner the party started. We had a small gathering of thirty people, but everyone had fun and contributed to the cheerful atmosphere. The best man and maid of honor's speeches was the most touching moment of the night, whereas the cake cutting was my favorite. We enjoyed champagne, great music and celebrated our love.
Since we are both originally from Serbia, there was a lot of people missing, but they surprised us with a celebration of their own. Everyone gathered in my husband's backyard and projected the whole wedding onto the outside walls via a video call. We got to see everyone, hear their genuine wishes and share this special day with them. 
We loved that our day was organized in a way that allowed us to really enjoy the day, take plenty of pictures, talk to our guests, and make sure everyone was having fun. The night ended with lots of laughter, and we got memories that we'd cherish forever.
Nase vencanje
Svi sanjamo razlicite zavrsetke svojih bajki. Svaka ljubavna prica je obojena nasim jedinstvenim zeljama i magicno oblikovana nasim srcima. On i ja smo se rodili jos 2008. kada smo se prvi put poljubili. Od tada smo naucili da su zivotni putevi ponekad cudni, da nije svako razdvajanje zauvek i da ono sto je zapisano prosto mora da se ostvari.
Dok sam se ja spremala za letovanje u Kaliforniji, on je planirao prosidbu. Kada sam mislila da odlazi poslovno na Floridu, on je zapravo otputovao na sastanak sa specijalistom za dijamante, dogovorio se oko cistoce i velicine kamena i narucio prsten specijalno izradjen za mene. Veridbu smo proslavili sami u intimnoj atmosferi uz morsku hranu i sampanjac. Tada smo prvi put razgovarali o vencanju. Ja sam zelela mali skup ljudi u vreme rucka koji bi violinista svojim zvucima uzivo transformisao u magiju. On se slozio sa mojim zeljama, ali je dodao i muzicki bend.
S obzirom da sam prilicno odlucna osoba, znala sam tacno sta hocu od samog pocetka priprema. Bilo je samo pitanje koji tim ljudi ce nase planove sprovesti u delo. Prvi korak je bio rezervacija hotela Drake u Oak Brook gradicu. Nedaleko od Cikaga, ovaj luksuzni i elegantni beg od svakodnevice u sebi sadrzi i najlepsi prostor koji sam ikada videla - Cvetnu sobu. Svaki detalj dizajniran je pazljivo, prostor je svetao i ukrasen prelepim staklenim cvecem po plafonu, a terasa vodi do prelepih travnatih povrsina gde i zaljubljenost cveta. Spremala sam se u jednom od apartmana koji smo dobili na koriscenje od hotela, zajedno sa najboljim drugaricama uz muziku, zenske razgovore i sminku.
Nakon sto smo se dogovorili oko detalja proslave sa planerom iz Drake hotela, rezervisali smo i crkvu Svetog Nikole, a onda osmislili dekoraciju, cvece i tortu. Zelela sam da celo vencanje obojim neutralnim tonovima i zacinim ga zlatnim svetlucanjem. Boja sampanjca i mlecni tonovi dominirali su prostorom. Haljina Jovani se uklopila u temu takodje. Belicasto cvece je pazljivo birano za ukrasavanje u Phillip's cvecari u gradicu Hinsdale, a njihov tim mi je napravio i bidermajer i odradio dekoraciju crkve tacno kako sam zamislila.
Tema neutralnih tonova zahvatila je i stolice, salvete, stolnjake i tortu. Nasa torta od limuna i maline imala je dva sprata, oba prekrivena italijanskim kremom. Donji sprat bio je ukrasen svedenim cvetnim dezenom, a gornji je bio jednostavan kako bi torta lepse izgledala na zlatnom stalku. Moj omiljeni detalj na svadbi bile su Svarovski case za sampanjac koje smo odlucili da cuvamo za buduce vencanje svog deteta.
Crkveno vencanje bilo je posebno lepo, jer je deo hora bio nas bliski prijatelj. Prisutni su bili clanovi nase porodice i najblizi ljudi iz naseg zivota. Ispred crkve sam bacila bidermajer i onda smo se pridruzili ostalim gostima u hotelu Drake, koji su vec pijuckali koktele i uzivali u posluzenju. Dok su svi pristigli, a mi obavili fotografisanje, posluzivani su razni ukusni zalogaji. Glavni meni nudio je izvrsne specijalitete, a medju njima nasle su se i vegan opcije. Sve je bilo gostima ponudjeno na zlatno belim karticama, koje su se slagale sa pozivnicama, znacima za dobrodoslicu i ostalim obavestenjima.
Zurka je pocela nakon vecere. Bilo je nesto vise od trideset ljudi. Svi su se divno zabavili i doprineli veseloj atmosferi. Kum i kuma su drzali govore i ganuli sve prisutne, a omiljeni deo svadbe bilo je iznosenje torte kada se sluzio sampanjac, uzivalo u veselim pesmama i uveliko slavila ljubav.
Posto smo oboje poreklom iz Srbije, nedostajalo nam je puno ljudi, ali oni su nas iznenadili i organizovali veliku proslavu u Srbiji. Svi nasi voljeni sakupili su se u dvoristu ispred rodne kuce mog muza i putem video poziva i projektora celo vencanje gledali na zidu kuce. Uspeli smo sve da ih vidimo, cujemo njihove iskrene zelje upucene nama i podelimo nas dan sa svima njima.
Jako smo bili srecni sto smo dan organizovali tako da smo imali dovoljno vremena da zaista uzivamo, napravimo divne fotografije i postaramo se da je svima ispunjen dan. Vece smo zavrsili uz mnogo smeha i uspomene koje cemo voleti zauvek.