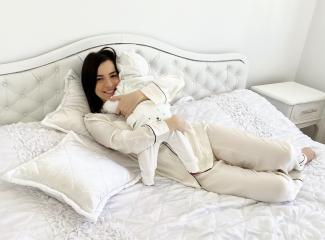 If morning sickness, food cravings, and tiny belly are long behind you, it's time you started thinking about the first couple of months with your little munchkin. Beside this being the happiest time, it will also be very challenging. There is a new life coming into your home and arms, and every mom wants the best care for her baby. You can't always plan on how life will develop, but what you can do is be prepared for the early start. Here are my 5 can't-do-without steps every new mom should take.
1) Create a Routine
Once you bring your little life home, there will be many changes both around and inside you. Your body, mind and heart will go through a transition, and the baby will have its needs as well. If you don't have a schedule, things can get hectic, and you might find yourself sleep deprived, caught in a vicious cycle of feeding, pumping, changing diapers, or putting the baby to sleep. As I was having a very hard postpartum recovery, I had to stick to a plan. Otherwise, I wouldn't have had any energy left to help myself heal.
Every 3 hours I would change the diaper, feed the baby, hold it to burp, and put it back in the bassinet. This created healthy habits in our lives - the baby was taken care of, and I had enough time to pump and rest for a bit. I bought enough bottles to only wash and sterilize them once daily.
2) Get a Pen and Pad 
It sounds simple, but you will soon realize 'mommy brain' works a little different. Babies don't always eat the same amount, pee and poop at the same time, or sleep at regular intervals. You will need to keep track of these because not only do they impact the baby's progress, but they will also help you understand what might be wrong if the baby gets fussy. Moreover, these might be the first questions a pediatrician would ask. I wrote down the exact time of each diaper change, whether it was Wet (Pee) or Dirty (Poop), the amount of milk the baby would drink, how much I pumped afterwards and any changes in the baby's behavior. Not trying to memorize all of this helped me relax and put my mind at ease. Plus, when you have help with the baby and everything is written down, everyone can be on the same page - literally!
3) Stock Up on Zip Up PJs and Bibs
Who doesn't fall for cute baby outfits?! But the reality is you won't take the baby out too often at first, and even if you do, it will spend time in a car seat or a stroller. With so many diaper changes around the clock, you will want baby clothes that are easy to put on and take off, save you time and don't get the baby fussy. My baby Nika lives in Burt's Bees Baby Pajamas. They are made of organic cotton that is breathable and great for baby's skin. The loose fit allows for enough wiggle room and as they are footed the baby doesn't need socks. Newborns sizes come with convertible mitts with fold over cuff, so the baby can't scratch itself. The diagonal zip front will speed up changes. In order not to wash the PJs to often, get enough bibs. They are much cheaper and take up less space. 
4) Buy a Bassinet with Wheels
Once you're home alone with the baby you might realize that babies have a funny sense of timing sometimes. They start crying the moment you go to the bathroom, or want to be held just as you start cooking. Our little angels always have advantage of corse, but if you want to stay productive, you may need to bring the baby with you around the house. A bassinet with wheels will help you move the baby without waking it up. They are also great for daily naps, especially if the baby's room is on a different floor. I got mine from Restoration Hardware but many other stores offer great ones as well.
5) Get Help!
We all want to be super-moms, and make motherhood easy breezy, but in reality babies require around the clock care. On top of it, there will be a lot of dirty diapers, blankets, clothes, and dishes. Don't be embarrassed to ask for help, even if only for several hours a week. This will allow you to plan ahead, know when you'll be able to run errands, get your home clean, do some shopping or simply sleep and recharge. I had to start working again after 2 weeks, so help was much needed! For the first two months we had somebody watch the baby for us, ordered take out a lot, and our cleaning lady came twice a month. 
At the end of the day, don't forget that simply doing our best is enough. Not every day can we perform on the same level, and that is fine. Sometimes we will feel like super heroes, wake up energetic and do a lot in a day. On other times our best is going to be just feeding the baby and fall asleep in a messy home. It is okay! We've all been there. Try to take one day at a time, stay positive, give yourself a break and enjoy moments with your little sweetheart. They grow up too fast anyways...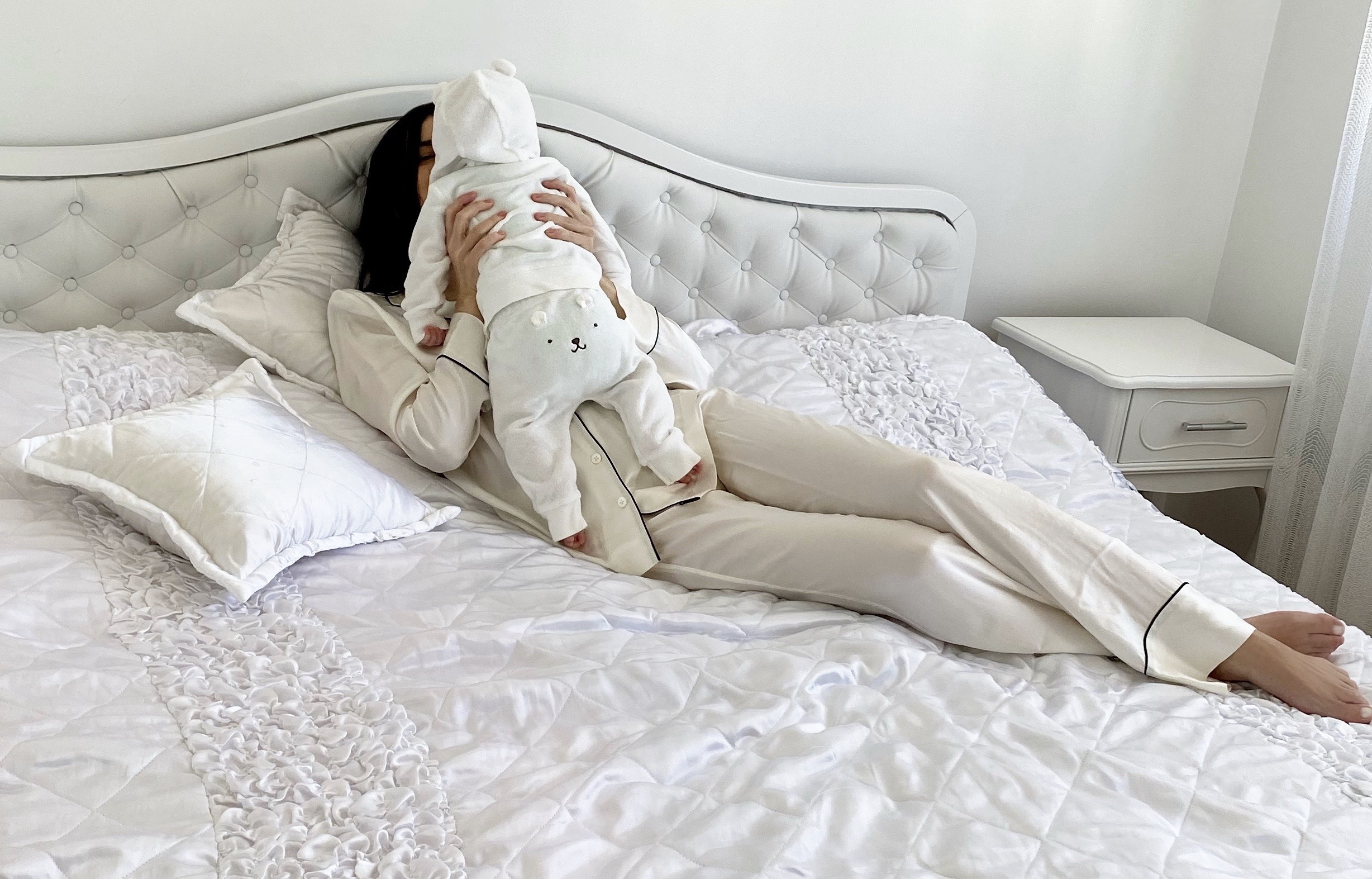 Pet saveta za nove mame
Ukoliko su jutarnje mucnine, mali stomak i pocetni simptomi trudnoce uveliko iza vas, vreme je da pocnete da razmisljate o prvih nekoliko meseci zivota sa vasom malom srecom. Osim sto ce ovo biti najsrecniji period u vasem zivotu, bice na trenutke i jako tezak. Dolazi vam mali andjeo u dom i narucje i, kao i svaka mama, zelecete mu samo najbolje u svakom trenutku. Ne mozemo da planiramo kako se zivot odvija, ali mozemo barem da se pripremimo za sam pocetak nove etape. Ovo je mojih 5 saveta kako da vam zajednicki pocetak prodje sto jednostavnije.
1) Napravite raspored 
Kada stignete kuci sa bebom, sve ce se promeniti - i oko vas i u vama. Menjace vam se telo, osecanja i razmisljanje, a beba ce imati svoje potrebe. Ako nemate raspored, vrlo brzo mozete da budete preplavljeni obavezama i emocijama, kao u zacaranom krugu u kome nema odmora od stalnog hranjenja bebe, uspavljivanja, presvlacenja, ili ispumpavanja mleka. S obzirom da sam imala jako tezak oporavak, morala sam da se drzim nekakvog plana, inace nikad se ne bih odmorila i izlecila. Na svaka tri sata bebi sam menjala pelenu, hranila je, drzala par minuta da podrigne i odmah je spustala u kolevku. Ovako smo i beba i ja navikle na ritam koji daje prostora da beba bude zbrinuta, a ja da ispumpam ostatak mleka i odmorim. Olaksalo mi je i sto sam kupila dovoljno flasica da ih perem i sterilisem samo jednom dnevno, pred spavanje.
2) Spremite papir i olovku
Zvuci jako jednostavno, ali shvaticete koliko je vazno da sve zapisujete kada vidite da "mamin mozak" radi malo drugacije :) Naime, bebe ne pojedu uvek istu kolicinu, ne kake i ne piske u isto vreme i ne spavaju uvek jednako dugo. Trebalo bi da sve ovo pisete, ne samo da biste pratili razvoj bebe, nego i da biste znali razlog ako beba place. Isto tako, svaki pedijatar ce vas najverovatnije pitati o ovim stvarima kada bebu odvedete na pregled. Ja sam zapisivala tacno vreme presvlacenja, da li je pelena bila Mokra (ako je beba samo piskila) ili Prljava (ako je kakila), tacno koliko je mleka beba popila, koliko sam mleka ispumpala nakon hranjenja, kao i svaku neobicnost u bebinom ponasanju. Ovo me je otarasilo obaveze da sve pamtim, pa sam bila opustenija i odmornija. Plus, ako imate nekog ko vam pomaze oko bebe i pisete na istom papiru, nece dolaziti do zabune.
3)Kupite pidzamice na rajsferslus i portikle
Svi se zaljubljujemo u slatka odelca za bebe, ali u pocetku necete izvoditi bebu cesto, a ako je povedete negde, beba ce biti ili u sedistu za auto, ili u kolicima. S obzirom da cete bebu stalno presvlaciti, treba vam garderobica koja se lako oblaci i svlaci, ne oduzima vam vreme i zbog koje beba ne postaje kenjkava. Beba Nika je uvek u Burt's Bees Baby pidzamicama (kliknite za link). Napravljene su od organskog pamuka, pa koza moze da dise. Nisu tesne i bebica moze slobodno da mrda nozicama. Pokrivaju i stopala, pa vam nisu potrebne carapice, a na rukavima postoji visak materijala koji se navlaci preko rucica, tako da beba ne moze da se izgrebe. Dijagonalni rajsferslus sa prednje strane omogucava vam da caskom skinete i obucete bebu. Ukoliko u Srbiji ne mozete da dodjete do ovih pidzamica, slicne pravi Lindex (pogledajte ovde). Da ih ne biste stalno prali, najbolje je da kupite i dovoljno portikli. Jeftinije su i zauzimaju manje mesta.
4) Kupite kolevku sa tockicima
Kada prvi put ostanete same kod kuce sa bebom, videcete kako bebe imaju cudan osecaj za vreme. Pocece da placu bas kad odete u kupatilo, ili ce zeleti da ih drzite tacno onda kad spremate rucak. Mali andjeli svakako uvek imaju prednost, ali da biste bili produktivni mozda cete morati da bebicu setate iz sobe u sobu zajedno sa vama. Kolevkica sa tockovima je idealno resenje da bebu premestate a ne budite je. Odlicne su i za spavanje preko dana blizu vas, narocito ako vam je bebina soba na drugom spratu. Moja kolevka je iz Restoration Hardware prodavnice namestaja (ova) ali mnoge radnje ih prodaju. U Srbiji ih ima recimo Aksa (pogledajte). 
5) Potrazite pomoc!
Sve mi zelimo da budemo super-mame i da nam majcinstvo bude slatko i glatko, ali bebe prosto zahtevaju negu non-stop bez dana odmora, narocito u pocetku. Osim toga, imacete dosta prljavih pelena, cebadi, vesa, sudova i odece. Nemojte da se ustrucavate da trazite pomoc, makar jednom sedmicno na nekoliko sati. Barem cete moci da planirate da za tih nekoliko sati nesto drugo zavrsite, pocistite, kupite sta vam je potrebno, ili prosto se opustate i spavate. Ja sam morala da pocnem da radim dve nedelje nakon porodjaja, tako da mi je pomoc bila preko potrebna. Prva dva meseca imali smo svakodnevnu pomoc oko bebe, hranu smo narucivali, a na dve nedelje dolazila je zena koja nam je pomagala da sve bude cisto.
Na kraju, ne zaboravite da je dovoljno da radite najbolje sto mozete. Nase "najbolje" nije uvek isto i to je u redu. Nekad cemo se buditi pune energije i stici na sve strane tog dana, a nekad cemo samo brinuti o bebi i ziveti u neredu. Sve je ovo normalno i sve majke prolaze kroz to. Zivite dan po dan bez opterecenja, uvek se fokusirajte na pozitivno, ne budite stroge prema sebi i uzivajte u svakom trenutku kada ste sa bebom. Ionako previse brzo porastu...