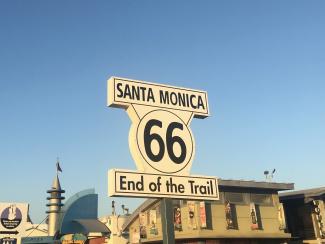 Located in the state of California, Santa Monica offers year-round warm weather and impeccable long coastline. But there is more to it that attracts visitors, and here's my list of reasons to love it:
Its proximity to other popular Southern Californian cities 
Its closeness to the Los Angeles airport, as well as the heart of downtown LA
Easy walk around neighborhoods and to numerous attractions
Variety of beaches, activities and restaurants
Rodeo Drive shopping experience
Hollywood night life or Beverly Hills daily pleasures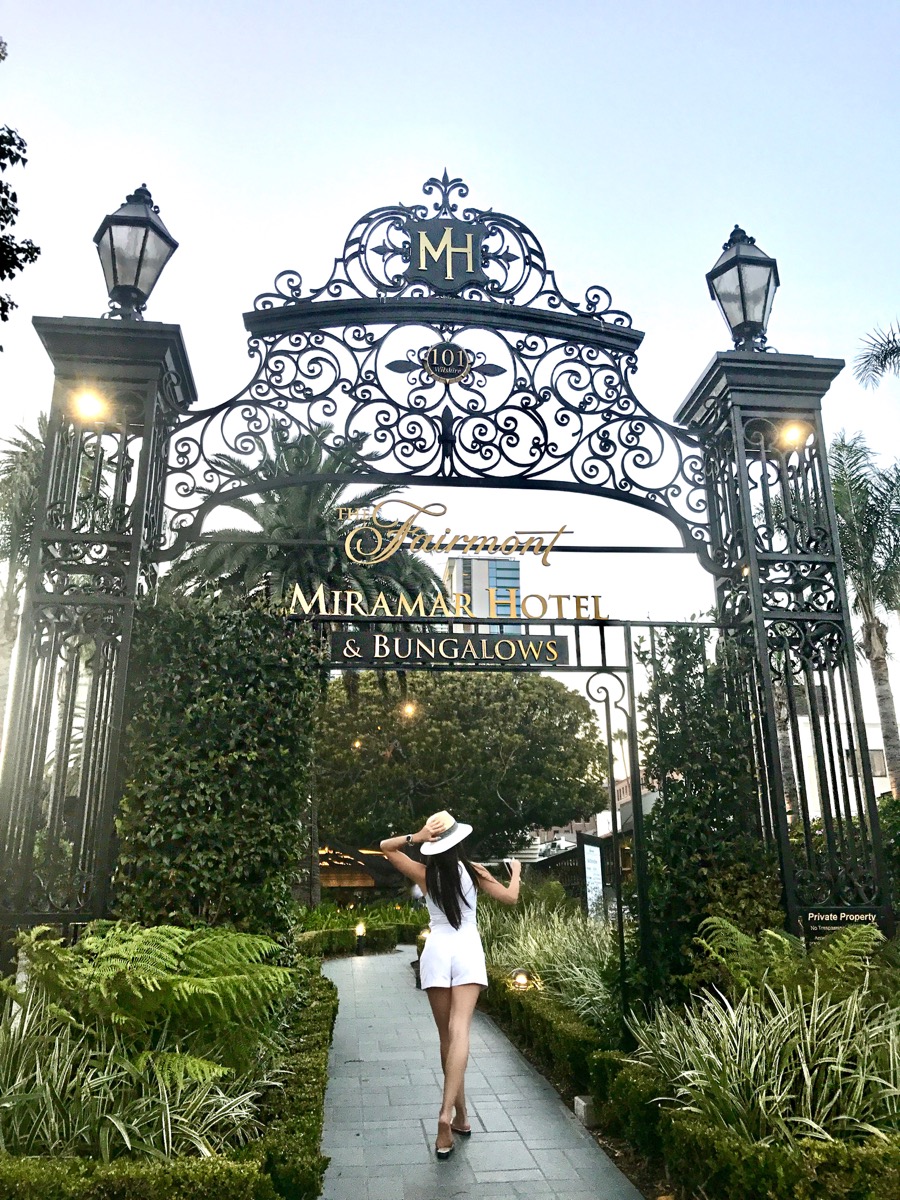 We stayed at Fairmont Miramar Hotel & Bungalows. The staff made our stay comfortable, relaxing and memorable. There's a list of hotels under the Fairmont wings, and all of them have long tradition and exquisite service.
History was made when Fairmont San Francisco first opened its doors in 1907. In a short amount of time presidents and politicians started gathering here, and Fairmont became home to luxurious glittering balls. Inside  its walls the UN Charter was written and signed by representatives of 50 countries. The brand was born and has kept the spirit of 'place of occasion' to this day.  Each of their unique locations will offer numerous benefits, but once you book any Fairmont you can prepare for your stay knowing the expectations can only be exceeded. Fairmont is one of very few names that signifies a place ideal for both urban vacations and beach getaways, and when you hear it chances are world's renowned landmarks will come across your mind. The extensive list of outstanding guests includes Claude Monet who painted reminiscent scenes of London during several visits to the Savoy, Queen Elizabeth II in every decade of her reign, Winston Churchill and Franklin D. Roosevelt at Fairmont Le Chateau, as well as many Hollywood celebrities.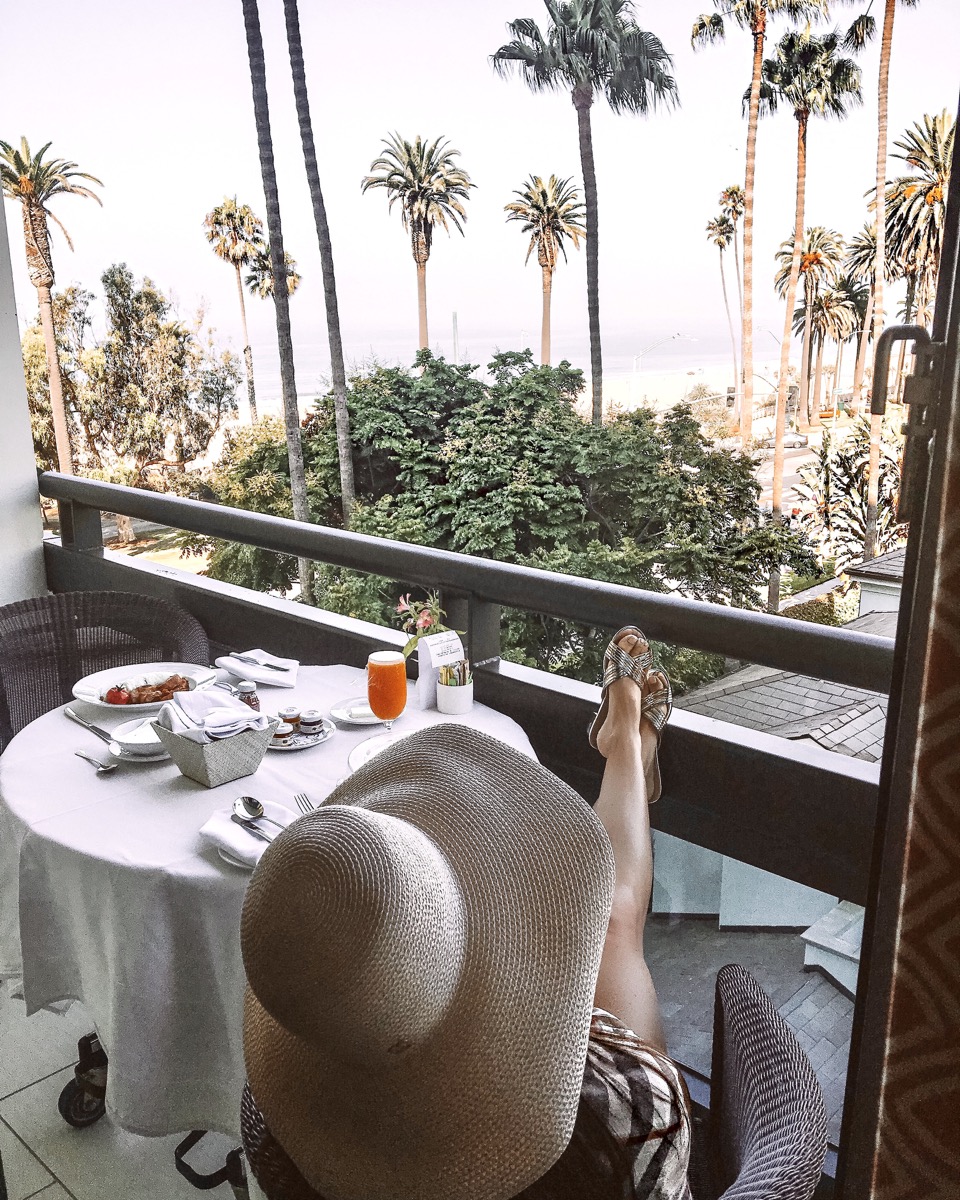 What I enjoyed most were the amazing views of sparkly waves showered in the Californian Sun. Me and my husband would both wake up excited about breakfast and coffee on our balcony. Everything was fresh, healthy and there were numerous organic options to choose from. I love that the State of California invests a lot in people staying healthy and fit, as well as our Planet being saved. Not only are there restaurants and bars serving healthy options, but there is also a small farmers market in Santa Monica where you can taste and buy fruits and vegetables you may need in your household. Everything is walking distance, and these daily walks felt like our mini workouts. In the nighttime we would go to Santa Monica Pier which is home to the Pacific Amusement Park, notable Looff Hippodrome Carousel and Pier Aquarium. The Pier was built in 1909 and also accommodates what once was the largest ballroom in the United States - La Monica Ballroom.
My favorite nearby place was Malibu. I loved the contrast of houses scattered around the background hills against the relaxed beach atmosphere and the Malibu Farm restaurant at the Pier. This oceanfront bistro offers a rustic vibe, fresh farm-to-table menu, and impeccable views. I enjoyed freshly squeezed juices all throughout the day, and once beach adventures were done, we would sit down for a delicious early dinner and some exquisite wine. Malibu is a beach city best know for its celebrity homes and a very popular, wide and sandy Zuma Beach.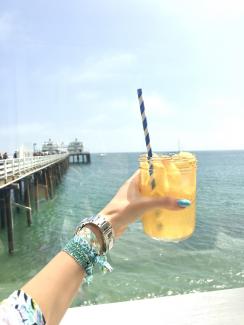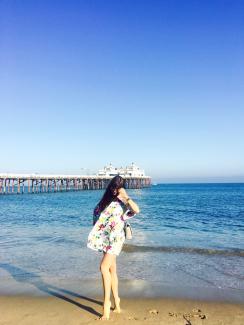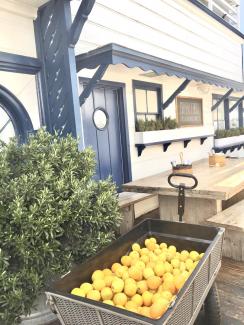 Not too far from our hotel was the famous Venice Beach, and we loved experiencing the true spirit of working out outdoors, observing amazing surfers and soaking up the Sun. It is known by its Bohemian spirit. There are a lot of street performers, coffee bars, shops and vivid murals. There is also an outdoor gym and a skating area.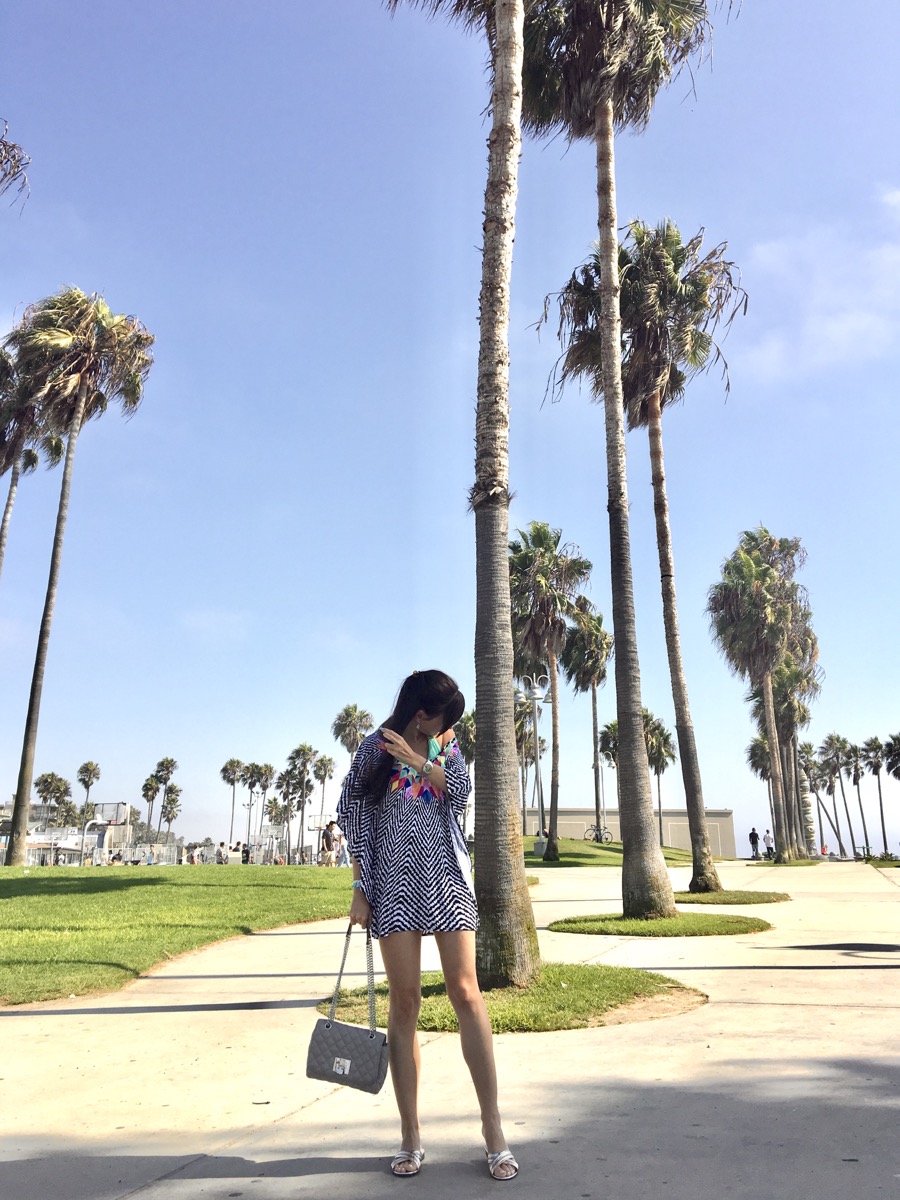 If  in Santa Monica make sure to visit Hollywood. We wanted to see the Dolby Theatre for so long, as we're both fans of Americas Got Talent. It is a live-performance auditorium located in the Hollywood and Highland Center shopping mall and entertainment complex. The view of the Hollywood Sign situated on Mount Lee shows beautifully during your shopping experience in this mall, although there are plenty of tours to the Sign offered all day. If you prefer relaxing strolls, the Hollywood Walk of Fame with its stars embedded in the sidewalks might make you fell somewhat of a star yourself. Stop by Madame Tussauds, a wax museum and tourist attraction located on Hollywood Boulevard, and set up by Marie Tussaud, the sculptor. There's wax figures of eminent performers, first ones being of Beyonce and Jamie Foxx. We also saw one of the rooms set up the same way as in the Godfather with corresponding music playing in the background. 
Once we were done sightseeing, we took the most enjoyable brunch break at Laduree and continued to shop on Rodeo Drive, a famous designer and haute couture fashion district of Beverly Hills. This is a very luxurious area with expensive boutiques definitely worth seeing, but if you are more of a bargain shopper, I would suggest a different area. If on the other hand you like to splurge, I'd suggest going to Milano, Italy instead, as prices are lower, and choices far greater. However, this area does offer restaurants with outdoor seating and agreeable climate, and we enjoyed our dinner with views of Dior and a glass of wine.  Nights were reserved for the Hollywood clubbing and rooftops. It was surprisingly not too hard to enter famous places, but we were a little early so maybe that was the reason.
No matter what kind of a vacationer you are, Santa Monica will offer variety of activities and places. Check it out and let me know in the comments whether your experience was as fun and fulfilling as mine.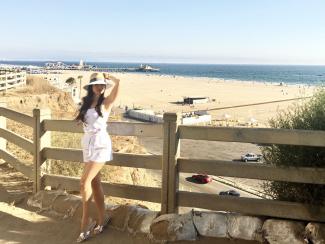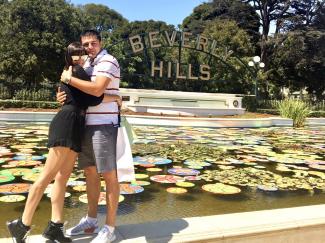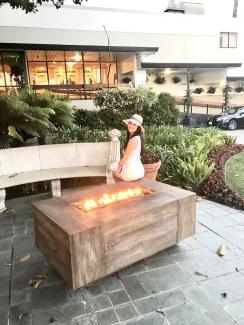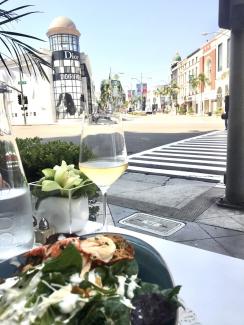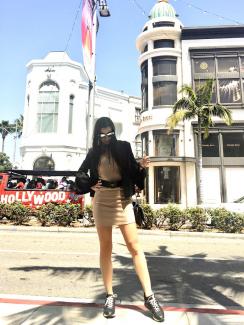 Zaljubljeni u Santa Moniku
Santa Monika nudi prijatno, toplo vreme i savrsene plaze tokom cele godine, s obzirom da je smestena u najlepsem delu Kalifornije. Medjutim, postoji citav niz razloga zasto joj se ljudi uvek vracaju, a ja vam predstavljam neke od njih:
Santa Monika se nalazi blizu drugih popularnih gradova
Blizu je aerodroma u Los Andjelesu, kao i centru ovog popularnog grada
Moze se vrlo brzo i pesaka stici do raznih naselja i atrakcija
Iskusicete Rodeo Drive shopping
Osetite holivudski nocni zivot ili zadovoljstvo boravka na Beverli Hilsu
Odseli smo u Fairmont Miramar hotelu sa bungalovima. Osoblje nam je ulepsalo boravak tamo, jer su se svi potrudili da usluga bude kvalitetna, a odmor zaista opustajuci. Postoji dosta hotela u okviru naziva Fairmont, svi sa dugom tradicijom i savrsenom organizacijom. 
Istorija ovog lanca je otpocela kada je prvi hotel 1907. godine otvoren u San Francisku. Vrlo brzo predsednici i politicari su zavoleli da se sastaju u ovom prostoru, a Fairmont je postao dom luksuznih proslava i balova. Unutar njegovih zidova napisana je i potpisana Povelja Ujedinjenih Nacija od strane predstavnika 50 zemalja ucesnica. Brend je rodjen, a do danas je odrzan duh 'mesta za svaku priliku'. Svaka od njihovih jedinstvenih lokacija nudi brojne pogodnosti, ali koji god Fairmont da rezervisete, mozete da se opustite znajuci da vasa ocekivanja mogu samo biti nadmasena. Fairmont ime samo po sebi oznacava mesto idealno i za urbani provod i odmor na izvrsnim plazama, a ukoliko ste upoznati sa njime, kada ga cujete verovatno vam svetske znamenitosti padnu na pamet. Dugacak je spisak istaknutih gostiju. Na njemu se nalazi Klod Mone, koji je slikao upecatljive scene Londona tokom svojih poseta Savojy, zatim kraljica Elizabeta II koja bi posecivala Fairmont u svakoj dekadi svoje vladavine, Vinston Cercil i Frenklin D. Ruzvelt ciji je izbor bio Fairmont Le Chateau, kao i mnoge holivudske zvezde.
Ono u cemu sam ja najvise uzivala prilikom nase posete Fairmont Miramaru jeste neverovatan pogled na svetlucave talase okupane zracima kalifornijskog sunca. Moj muz i ja smo se budili i jedva cekali dorucak i kafu na balkonu. Posluzenje je uvek bilo vrhunsko, napici osvezavajuci, a hrana zdrava i organska. Jako mi se dopada sto drzava Kalifornija ima svoje zakone koji stite zivotnu sredinu i pomazu ljudima da ostanu zdravi i vitki. Ne samo da restorani i barovi nude organski jelovnik, vec u Santa Monici postoji i pijaca na kojoj mozete kupiti uksuno voce i povrce koje bi vam zatrebalo u domacinstvu. Do pijace se stize pesaka za cas, a nasi odlasci tamo cinili su nam se kao mini treninzi koje smo jako zavoleli. Veceri bismo provodili setajuci do zabavnog parka, pored koga se nalaze i druge znamenitosti poput poznatog Akvarijuma i La Monika dvorane, nekada najvece dvorane u Americi.
Omiljen obliznji gradic mi je bio Malibu. Jako mi se svideo kontrast koji kuce razbacane po brdima cine sa razdraganom plazom i Malibu Farmom, restoranom na uskom keju. Osim sveze, organske hrane ovaj restoran vam pruza i savrsen pogled na plavetnilo okeana i neba prosarano sjajnom, suncevom zutom bojom. Celog dana sam se osvezavala uz njihove sveze cedjene napitke, a dok je sunce zalazilo uzivali smo u veceri, vinu, mnostvu ptica i najlepsim letnjim nijansama. Malibu je grad najbolje poznat po prelepim kucama slavnih ljudi i veoma popularnoj, sirokoj i pescanoj Zuma plazi.
Nedaleko od naseg hotela je i poznata Venice plaza, a nama se na njoj posebno svidelo iskustvo treniranja na otvorenom dok surferi savladavaju talase i upijaju sunce. Poznata je po boemskom duhu. Mozete sresti puno ulicnih izvodjaca, uzivati u slikovitim grafitima, kafe barovima ili mini prodavnicama koje oslikavaju duh ovog mestasca. Pored teretane na otvorenom nalazi se i skejt park.
Ukoliko posetite Santa Moniku, sigurno ce se i na vasoj listi zelja naci i sam Holivud. Mi smo jako zeleli da obidjemo Dolbi pozoriste, posto smo oboje veliki fanovi sou programa "Amerika ima talent". Nalazi se u sklopu Holivud-Hajland centra za zabavu i kupovinu, a osecaj odlaska do Dolbi teatra je zaista neopisiv. Iz shopping centra iza pozorista vam se pruza i pogled na Holivud znak, koji ste sigurno vidjali u filmovima, mada ce vam sa svih strana nuditi i kombi ili bus odlaske do vrha tog brda. Ukoliko biste radije samo setali, prosetajte Bulevarom slavnih i uzivajte u zvezdama uklesanim u trotoar, a nemojte se zacuditi ako se i sami po malo osetite kao poznata licnost. Obidjite i Madam Tiso muzej vostanih figura na Holivud bulevaru, koji je osnovala Mari Tiso, vajarka. Mozete videti mnostvo figura, a jedne od prvih bile su Bijonse i glumac Dzejmi Fox. Videli smo i sobu namestenu bas kao u filmu Kum, sa vostanim figurama glavnih junaka, a atmosferu prati muzika iz ovog filma.
Kada smo zavrsili razgledanje, otisli smo do Ladurea na predah uz ruckic i kolace, a onda smo nastavili uzivanje po prodavnicama na Rodeo Drajvu, poznatom po visokoj modi i najboljim svetskim dizajnerima. Ovo je veoma skupocena oblast sa ekskluzivnim buticima koje je predivno obici, ali ukoliko ne zelite da potrosite gomilu novca, predlozila bih vam neko drugo mesto za shopping. Ako ste ipak radi da ulazete u brendirane stvari, radije podjite do Milana gde su cene nize, a izbor itekako bogatiji. Moram da priznam da ova cetvrt zaista ima prelepe restorane sa bastama u kojima je prelepo uzivati jer je klima izuzetna, a vecera uz vino i pogled na Dior je svakako zanimljivo iskustvo. Vikendom uvece izlazili smo po holivudskim klubovima u koje, iznenadjujuce, nije bilo tesko uci, mada smo mi uvek stizali malo ranije, pa je mozda i to bio razlog.
Kakvu god vrstu odmora da prizeljkujete, Santa Monika zaista nudi raznovrsne aktivnosti i mesta. Definitivno je preporucujem, a u komentarima mi recite kako se vama cini i koje je vase omiljeno mesto za odmor.