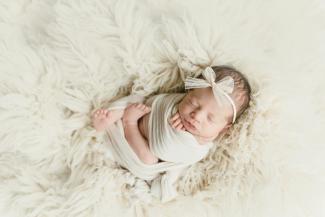 I remember packing my hospital bag thinking I was getting ready to give birth. Little did I know I was only getting ready for my hospital stay. Giving birth was an experience I was far from prepared for, and it is an understatement to say it was a surprising one.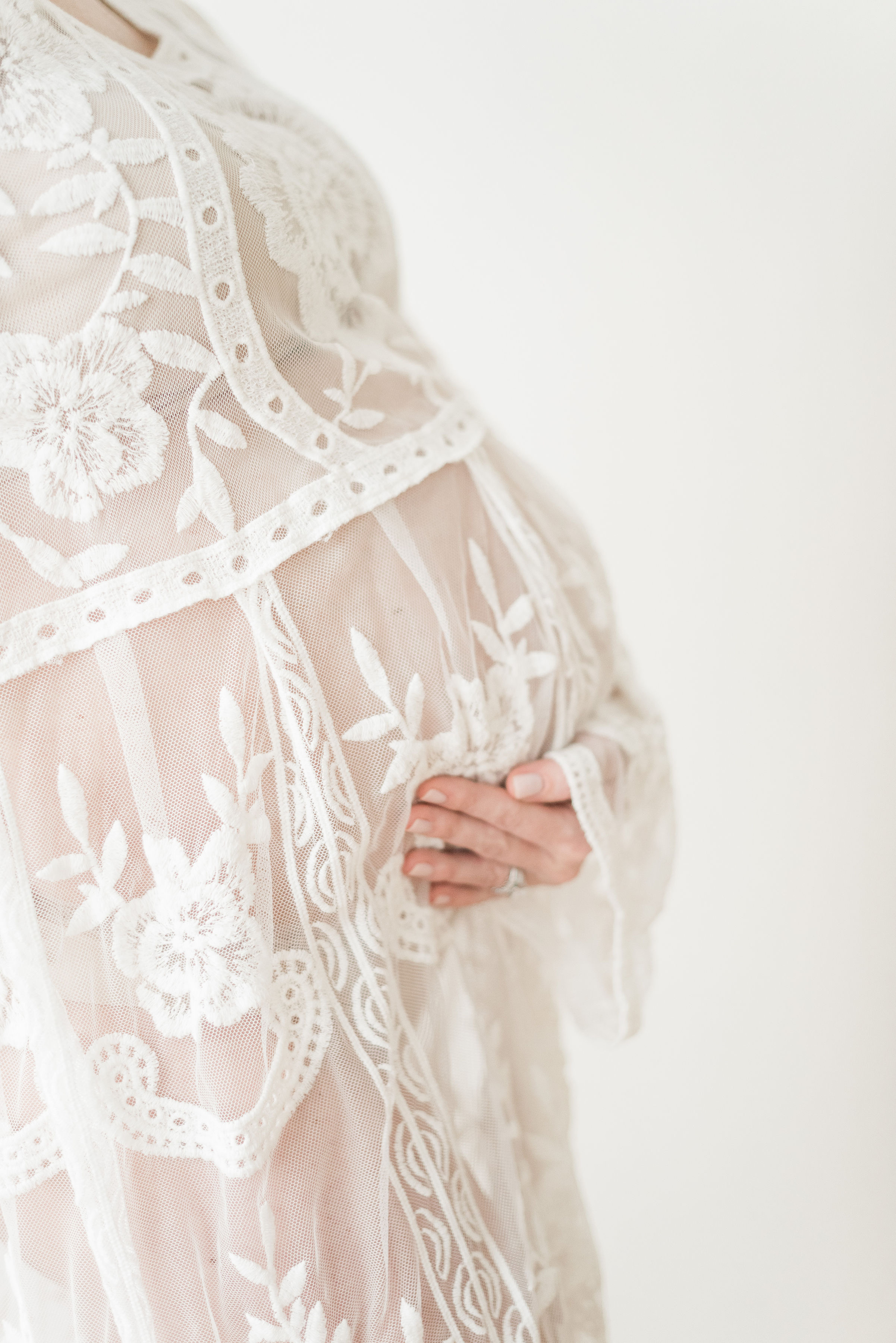 Let me take you a few months prior. When I look back at my pregnancy, it seems like it was an easy one - I didn't gain any extra weight but what the baby needed, I got no stretch marks whatsoever (I could write a whole new post about body care during pregnancy), and I worked until 38 weeks pregnant. But I did face many challenges, and the symptoms would take turns from day one until the end of it.
If I analyze trimesters, the first one was very difficult! My morning sickness lasted all day every day for months! I was four months pregnant already when it stopped, and it was so sudden as if someone had turned the vomit switch off. What helped was taking small bites of lemon, laying down, and holding a mint in my mouth, but these were only short moments of relief before the next I-can't-keep-my-head-up episode. At some point during this period my body hair stopped growing, and that made life a little easier as the belly grew, but it came back at month 9. I had heartburn throughout the whole pregnancy, and it got really bad towards the end. It would wake me up every night for a few weeks, but this was nothing compared to peeing non stop. I also had to face my natural body smell change, and my sense of smell got stronger. I didn't have any food cravings. Quite the opposite! I didn't want to eat any food at all. I only ate so I can feed the baby. The second trimester brought less nausea and more travel. We went on our long anticipated Bahamas babymoon and visited several cities, although I did mind the summer temperatures and long walks, and was ridiculously emotional for a month or so. As the time passed it became harder to stand up, put my shoes on, cook, go shopping, run errands or do any daily activities really. I always had to allow myself for some extra time and finally understood all the women saying they couldn't wait to deliver.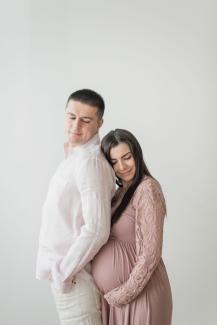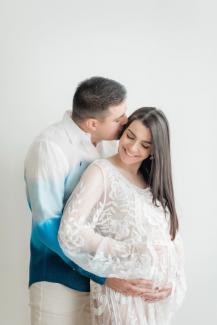 Week 40 already and it finally happened. Like in a movie, around midnight my water broke! My husband panicked, started picking up bags for the hospital, called my doctor and walked around our home telling me to hurry up. I was confused. I had no contractions, but I kept leaking. As we headed to the hospital I started to get mild pain, something similar to period cramps. I remember thinking to myself: "Oh, this is not bad. I can do this!" Little did I know…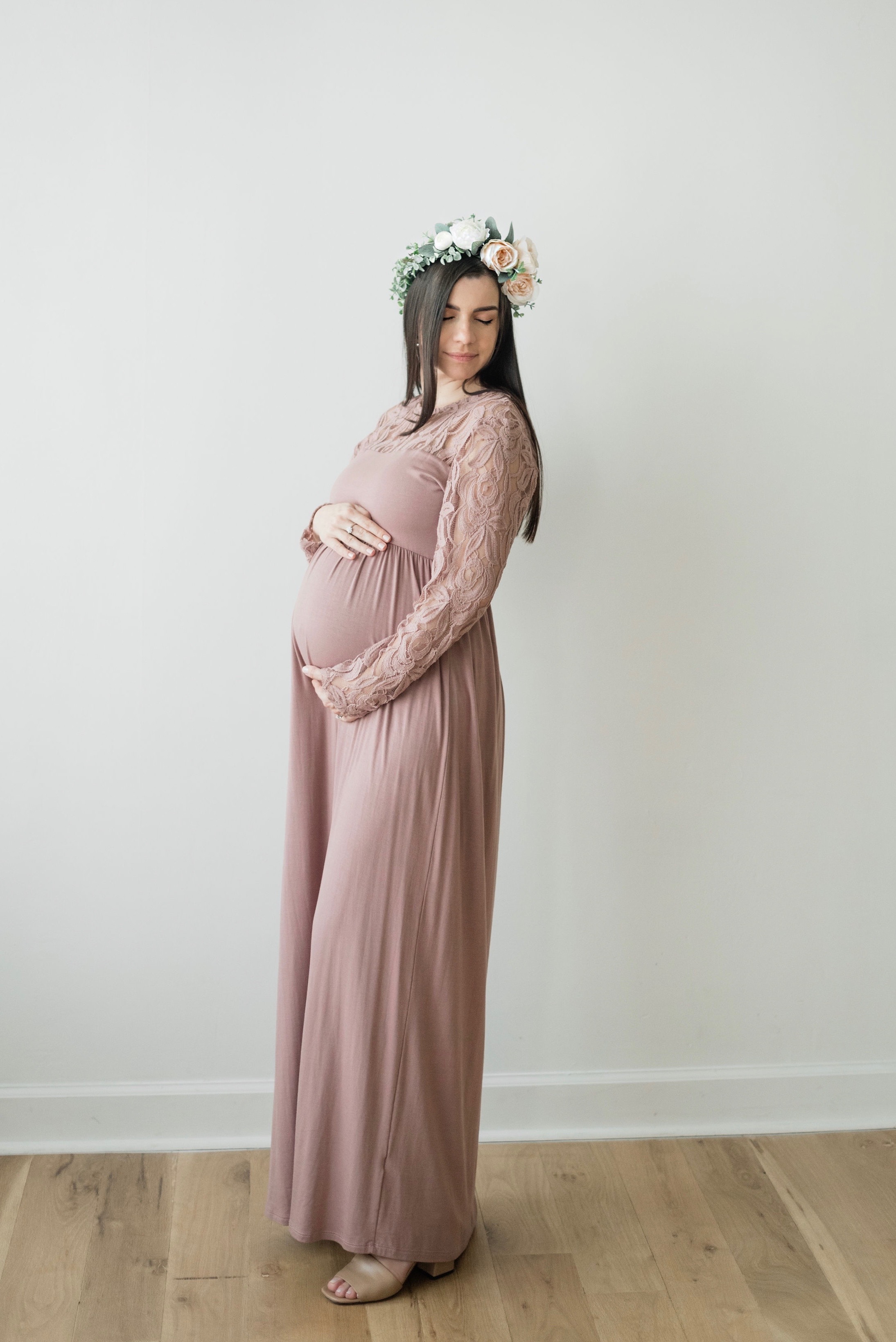 As the nurses went through their standard procedure, checked on me and accommodated us, my contractions got stronger. It started to feel like someone was twisting a knife inside my body. The excruciating pain got me bending, grabbing, squeezing and crying. I asked for an epidural several hours later, but waited on the anesthesiologist for what seemed like too long. 6 hours later, life became tolerable again. We kept waiting. I didn't know what was going on, or what to expect. As we were wondering why the baby was not coming out yet, the doctor came in to explain that my contractions, even though so strong, are not regular enough to start the active stage of delivery and I had to be induced. They wanted a steady pattern before I started pushing. Now I wish I hadn't ripped my birth plan into a million pieces out of misery during my post-partum recovery, so that I could post it here. I only wrote several wishes there:
No other means of pain relief but the epidural (if needed) accepted
In case something went wrong and I wasn't conscious, my husband was to make any decisions, but the baby was the priority
If natural birth was getting complicated, no induction or vacuum allowed; C-section preferred
I told the nurses and doctors I didn't want to get induced, but they kept talking me into it. They listed a whole bunch of reasons why I should avoid a C-section, and talked so much about why getting induced would work a lot better. I tried to stick to my plan, but they would come and go, take turns telling me not to get a C-section and naming all the things that could go wrong, that in the end I agreed to whatever they said. I just wanted to get this over with! I got induced and started having regular contractions that were more and more painful. I kept asking for more pain relief, but they only gave me enough when I was screaming crying again saying I couldn't do it! I was about to pass out! Once the pain decreased I was told that the baby was too high and in order to actually deliver, I had to first push to get it low enough. I had no idea what I was getting myself into! After hours of pushing, the baby was finally ready for the active delivery. They said the first babies could take up to 2-3 hours. Mine took another 4. When the baby was low enough so that the doctor could feel the head, they realized it was down, but facing the ceiling, not the floor. She tried to turn it, like they do when the baby "is looking" sideways, but couldn't do it. And they said it was too late for a C-section at this point. I had no choice but to continue with what felt like torture at this point. Hours into labor I remember telling myself it had to end eventually. My gynecologist from Serbia later explained to me that pushing out a baby that is facing the ceiling is the hardest and rarest form of natural birth possible. He also said we were lucky me and the baby were both okay. Luckily, at the time of giving birth, I didn't know any of this, so I was focused on fighting for my little one! 16 hours into labor she was born. My little baby Nika. We never asked about the gender, but I knew from day 1 it was a girl. I envisioned her with clean skin and lots of dark hair, and she looked exactly like I thought she would.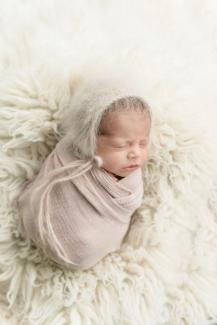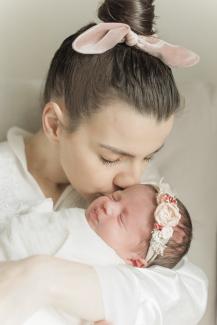 I've read about the term "Fourth Trimester" many times during pregnancy. It relates to the extra three months the baby needs to adjust to the world. Me and my baby Nika lived a similar way during this period. We both cried often, wore diapers, needed to be helped and held, and obsessed over milk. It took 2 weeks for me to be able to control my bladder and 3 months to be able to sit without pain, or walk without feeling my organs would fall out. I went through mastitis, cold, fever, UTI and wound infection. Such a hard delivery required an even harder recovery. But every day with the baby makes it all so worth it! What helped during the struggles was talking to my friends, relying on my family, and using every second I could to hold my baby and learn how to be a mom. It didn't just come to me naturally like I thought it would, but that's okay. We all have a different story, and as long as we do our best, we are all good moms. After all, bad parts fade away, and what stays is all that matters.
Feel free to ask questions or share your story in the comment section at the bottom of the page. I'd like to hear about your little ones :)
Prica o mom porodjaju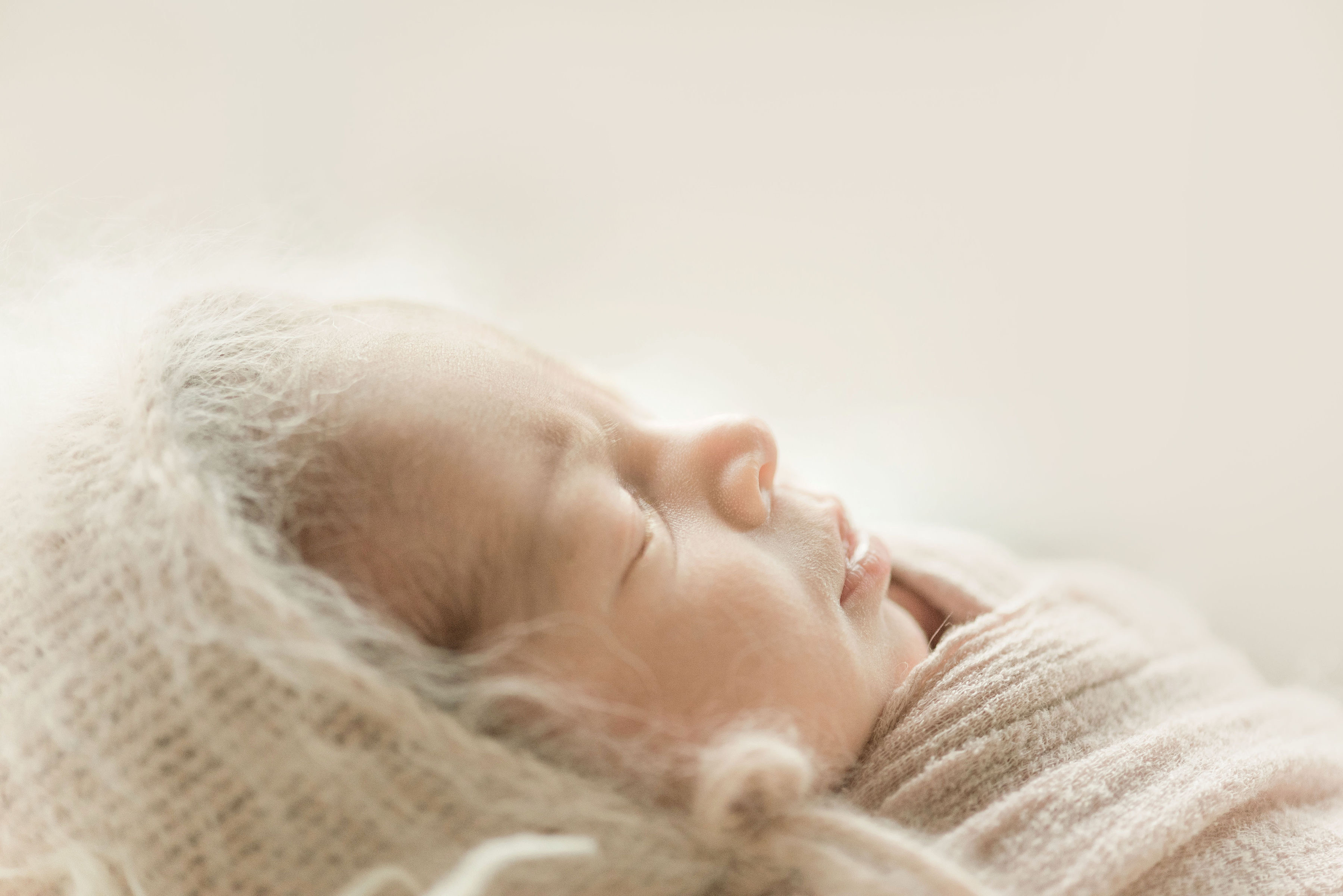 Kada sam ostala trudna, nisam imala pojma sta sve moze da se desi tokom trudnoce, porodjaja, ili oporavka. Delim ovu pricu sa vama, kako biste bile bolje pripremljene za ono sto moze da se desi, iako svakoj zeni zelim lakih 9 meseci i kratak porodjaj :) 
Kada sam pakovala torbu za bolnicu, mislila sam da se pakujem za porodjaj. Ustvari, samo sam se spremila za vreme u bolnici, nikako za ono sto me ceka. Za porodjaj sam bila potpuno nespremna i malo je reci da sam bila iznenadjena!
Ispricacu vam najpre kako mi je tekla trudnoca. Kada pogledam unazad, izgleda zaista kao da mi je bilo lako. Nisam se ugojila ni grama vise nego sto moram zbog bebe, nisam dobila ni jednu jedinu striju (mogla bih da vam napisem citav tekst kako sam negovala telo u toku trudnoce) i radila sam do punih 38 nedelja. Ipak, suocila sam se sa raznim poteskocama, a simptomi su se smenjivali od prvog do poslednjeg dana. 
Ako analiziram ponaosob, prvi trimestar mi je bio najtezi. Jutarnja mucnina mi je trajala celog dana svakog dana mesecima. Bila sam vec 4 meseca trudna kada je prestala i to tako naglo, kao da je neko pritisnuo dugme za prestanak! Pomagalo mi je da jedem limun, lezim, ili drzim ljute bombone u ustima, mada su sve ovo bile samo kratke pauze pre jos jedne epizode kada ne mogu glavu da podignem. Nisam morala da se depiliram, jer odjednom nisam imala sta, pa mi je to olaksalo zivot, ali se sve vratilo u normalu kada sam usla u deveti mesec. Kiselinu u stomaku sam osecala tokom cele trudnoce s vremena na vreme, ali pred kraj me je jako mucila. Par nedelja me je budila svaku noc, ali i to je bilo nista s obzirom da sam non stop trcala do toaleta! Takodje mi se promenio prirodni miris tela, a culo mirisa izostrilo. Nije mi se jelo nista, naprotiv! Jela sam samo koliko moram zbog bebe. Drugi trimestar je smanjio mucnine, a doneo putovanja. Konacno smo otputovali "sa bebom" na Bahame i posetili nekoliko gradova, iako su mi smetale vrucine i duge setnje, a i bila sam preosetljiva tih meseci. Kako je vreme prolazilo, postalo mi je sve teze da ustanem, obujem se, kuvam, odem u nabavku, zavrsavam obaveze, ili bilo kakve svakodnevne aktivnosti. Za sve sam morala da izdvojim previse vremena i konacno mi je postalo jasno zasto mnoge zene jedva cekaju da zavrse sa trudnocom.
U cetrdesetoj nedelji, konacno se desilo. Kao u nekom filmu, oko ponoci mi je pukao vodenjak. Moj muz je u panici trcao po stanu, sakupljao torbe, zvao doktora i vikao na mene da pozurim. A ja sam samo stajala zbunjena, jer je iz mene nesto teklo, a nisam imala nikakve kontrakcije. Na putu ka bolnici dobila sam blage bolove, nesto nalik menstrualnim grcevima. Secam se da sam pomislila: "Uuu ovo nije tako lose, mogu ja ovo!" Da sam samo znala sta me ceka...
Dok su sestre prolazile kroz standardnu proceduru, proverile u kakvom sam stanju i smestile nas u sobu za porodjaj, moji bolovi su postajali sve jaci. Ubrzo sam pocela da se osecam kao da neko vrti noz kroz moje telo, a od tolikih bolova sam se uvijala, grabila, stezala stvari i plakala. Posle nekoliko sati sam zatrazila epidural, ali sam na anesteziologa cekala, kako se meni cini, previse dugo. Nakon 6 sati, zivot je postao podnosljiv opet! I dalje smo nesto cekali... Nismo znali sta se desava, ni sta da ocekujemo. Dok smo se oboje pitali zasto bebe jos uvek nema, doktorka je usla u sobu da nam objasni kako moje kontrakcije, iako su toliko jake, nisu dovoljno ucestale da bi zapoceo aktivni deo porodjaja. Trebao im je tacan razmak izmedju kontrakcija i zeleli su da zapocnu sa indukcijom. Sada mi je zao sto sam svoj porodjajni plan koji traze u Americi pocepala u milion delova od besa, ali na njemu je ionako pisalo samo par recenica:
1. Nikakva druga sredstva protiv bolova ne zelim, osim epidurala ako zatreba
2. Ukoliko nesto podje po zlu, moj muz moze da odluci umesto mene, ali beba mora da je na prvom mestu
3. Ako porodjaj prirodnim putem ne ide glatko, zelim iskljucivo carski rez - nikako indukciju ili vakuum
Objasnila sam sestrama i doktorima da ne zelim da mi izazivaju porodjaj, ali oni su me nagovarali da je tako najbolje. Smenjivali su se i svi mi govorili sta sve moze da podje po zlu ako se odlucim za carski rez, listali razloge zasto je najlakse da mi indukuju porodjaj i, bez obzira sto sam zelela da se drzim svog plana, cinilo se kao da oni nece da odustanu. Toliko su mi vremena potrosili pricajuci o posledicama carskog reza dok sam trpela bolove, da sam na kraju pristala na sve, samo da se sve vec jednom zavrsi. Zapoceli su sa indukcijom i konacno sam dobila ucestale, jos bolnije kontrakcije. Trazila sam dodatnu dozu epidurala, ali su mi dali koliko zelim tek kada sam opet vristala i plakala, jer nisam mogla da trpim. Samo sto se nisam onesvestila! Kada se konacno intenzitet bolova smanjio, receno mi je da je beba jos uvek previse visoko i da prvo moram da guram kako bih je spustila dovljno nisko da uopste krene aktivni porodjaj. Nisam imala pojma u sta se upustam! Nakon sati i sati naprezanja, beba se dovoljno spustila. Spremili su me za aktivni deo porodjaja i rekli da, s obzirom da mi je prva beba, mozda ce trajati cak 2 do 3 sata. Trajao je 4... Kada je doktorka konacno mogla da napipa bebu, uvidela je da iako joj je glava okrenuta na dole, beba nije okrenuta licem ka podu, nego ka plafonu. Pokusala je da je okrene, kao sto to rade kada beba "gleda" u stranu, ali bezuspesno. Sada je vec bilo prekasno za carski rez. Nisam imala izbora nego da nastavim sa ovom torturom. Nakon jos nekoliko sati porodjaja secam se da sam se tesila mislima kako jednom mora da bude gotovo! Kasnije mi je moj ginekolog iz Srbije objasnio kako beba koja "gleda u plafon" je najtezi i najredji vid prirodnog porodjaja koji postoji i da je pravo cudo da smo obe prosle bez trajnih posledica. Srecom, to nisam znala dok sam se poradjala, pa sam se fokusirala da spasem bebu. 16 h nakon ovog mucenja, konacno je beba stigla na svet. Moja beba Nika. Nikad nismo pitali za pol, ali sam od prvog dana osecala da je devojcica. Zamisljala sam bebu svetle puti i tamne kose i tacno takvu sam dobila! 
Citala sam cesto o terminu "Cetvrti trimestar". Odnosi se na dodatna tri meseca nakon porodjaja koji su potrebni bebi da se prilagodi na ovaj svet. Moja beba Nika i ja smo slicno zivele ta tri meseca. Obe smo plakale i nosile pelene, obema nam je trebala pomoc i da nas neko drzi i obe smo bile opsednute mlekom. Trebalo mi je 2 pune nedelje da ponovo dobijem kontrolu nad besikom, a tacno 3 meseca da mogu bez bolova da sedim, ili hocam a da nemam osecaj kako ce mi ispasti svi organi. Prosla sam mastitis, prehladu, groznicu, infekciju rane i infekciju urinarnog trakta za to vreme. Onako tezak porodjaj zahtevao je jos tezi oporavak. Ali, svaki dan sa bebom vredan je svega! Pomogli su mi razgovori sa drugaricama, oslanjanje na porodicu i svaki sekund koji sam provela drzeci bebu i uceci kako da budem mama. Nije mi nista doslo prirodno kako sam ocekivala. Ali i to je u redu. Svako od nas ima svoju pricu i dok god dajemo sve od sebe, svaka zena je dobra mama! Na kraju krajeva, lose se zaboravi, a ono sto nam ostane je jedino i vazno.
Podelite sa mnom svoju pricu u komentarima, ili mi postavite pitanja. Volela bih da cujem razna iskustva.